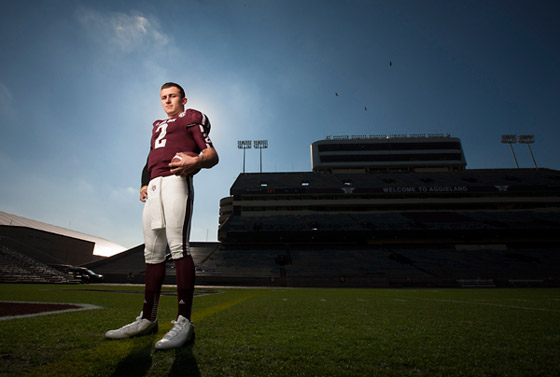 Houston-based freelance photographer Robert Seale took portraits of Heisman winner Johnny Manziel for Sports Illustrated.
Last week, in preparation for the upcoming Heisman Trophy announcement, Sports Illustrated sent four photographers out to shoot portraits of the four leading Heisman candidates.  My sports portrait photographer colleagues all made great images, and SI published a multi-page story on the Heisman frontrunners just three days before the announcement.  Peter Read Miller photographed USC WR Marqise Lee, Darren Carroll photographed Kansas State QB Collin Klein, and Todd Rosenberg photographed Notre Dame LB Manti Te'o, while I got the call to shoot Texas A&M quarterback Johnny Manziel, known more commonly here in Texas by his nickname:  "Johnny Football."

Manziel, a redshirt freshman sensation, was sequestered from the press by his coaches until the week before the big announcement.  When he finally spoke, the country heard from a charming, positive young kid who was enthusiastic and enjoying every minute of his journey.  I've shot a ton of athletes, and normally we do a few "tough guy" or heroic poses, and we tried a few with Johnny, but he literally couldn't stop laughing and smiling.  The best shots were the ones where he was grinning from ear to ear.  That's truly him – just a bubbly kid who's happy to be here – overflowing with excitement that he gets to wake up each day and play QB for the Aggies…..and that was BEFORE he won!
Continue reading and see more photos on Robert's blog.