Warren Winter
, aka
The Pixel Pimp
, is a photojournalism industry veteran with 25 years experience. He's been a Director, Managing Director, Editor, and Consultant, to many major photo agencies including his own agency,
PSG
, as well as other famous agencies including Polaris, WpN, ZUMA, Sipa, and WireImage. The photographers and newspapers he's represented have seen their work on covers including Time, Newsweek, People, US Weekly, Paris Match, Stern, and Der Spiegel (to name a few), and been featured in every major publication in the world. The Pixel Pimp is a photo agency-related news and philosophy column written in a blunt, hopefully insightful, always sarcastic manner.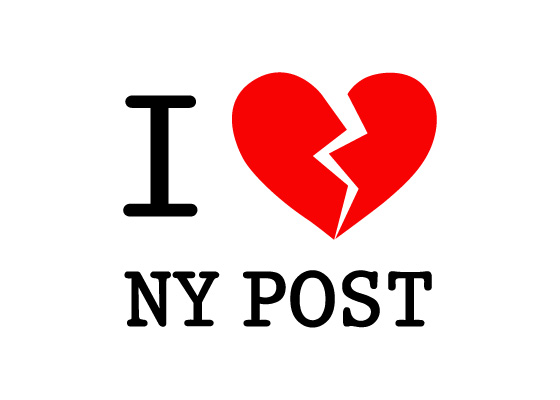 I planned to write a column today about the rebranding of US PressWire as USA Today Sports Images but then I saw the front page of today's New York Post.
It's impossible not to comment about this but yet I find it hard to get started.
Disgusting.  Insensitive.  Unacceptable.  Unethical.  Immoral.  Inhuman.  Just plain wrong, period.
There used to be a joke that went something along the lines of "If you were alone and came upon President Bush drowning in a river would you photograph it in color or b/w?"  While funny at the time it now takes on a much darker hue. Now we're being confronted, full on, by the moral and ethical questions a situation such as this poses.
But honestly, I think as important as our ethics are to the foundation of journalism, our morals as human beings in civilization are far more so important.  The New York Post's headline today completely crossed even the most liberally drawn lines of ethics and morals.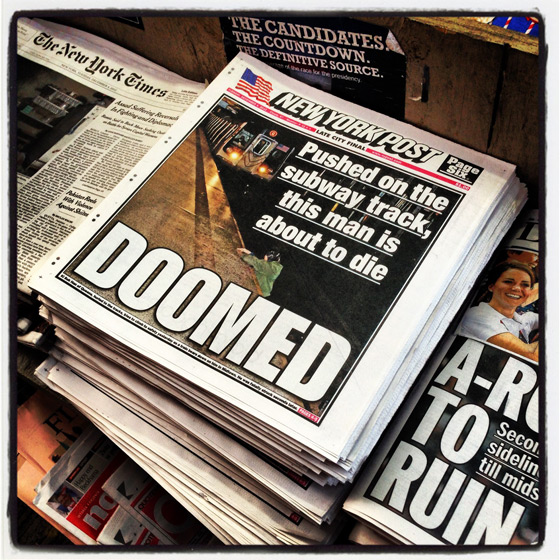 The photograph is newsworthy.  That said, The Post could have published it inside the paper with a warning on the front page telling of graphic content inside.  The Post damn well should have demonstrated at least SOME small sense of humanity in choosing its' headline.  They didn't do either.  They did as the Post does.  They went straight for the lowest form of journalism possible, shock for the sake of shock.  The Post's choice of headline, on the most disgusting level possible, embodies the spirit of tabloid journalism's mantra "If it bleeds it ledes.".
The photograph is newsworthy.  The photographer, from what I've read, appears to have attempted to help the victim on some level but was unable to do so.  In an effort to alert the approaching train conductor the photographer began firing his flash at him.  The conductor noted the flash but the train had too much momentum to stop in time.  Based on what I've read I can't condemn the photographer although, without having any additional facts, wonder if he and the other onlookers couldn't have done more.  But that is hindsight and/or speculation from someone who has limited reporting on the moments leading up to the man's death.
I think it's far more important to stay focused on The Post's editorial decisions.  This man has a family who has, I'm sure, seen the photos and the headline.  Can you imagine how they must feel?  Apparently the editors at The Post can't.  Had The Post presented this differently, with even the slightest modicum of sympathy or compassion, they might have told an important, albeit very tragic, story.  Instead, for sake of newsstand sales, The Post decided to sell their last remaining thimble's full of soul to the Devil himself.
Hopefully New Yorkers will let Rupert Murdoch know how they feel about this and boycott The Post for the foreseeable future.  Viva la boycott!!!