From time to time I've been sent to take portraits of subjects in less than ideal locations. Sometimes the only time to meet is late at night, or in an austere and unlit area. Other times you might need to shoot on the sly, or without attracting undue attention to yourself. Last weekend I pulled an assignment with the Village Voice where I needed to sneak into a movie theater with the subject, take a studio-style portrait, then sneak back out before security inevitably threw us out. In situations like this you need to be able to bring your own strobes, and (perhaps more importantly) you need to be able to travel light. In these scenarios, it doesn't help to have a ton of gear hanging of your hip, or a pair of giant softboxes slung over your shoulder.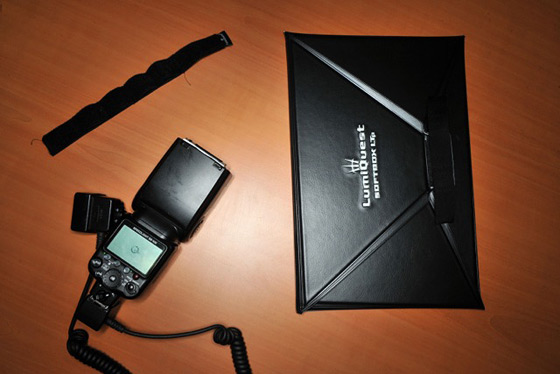 Recently I was sent a pair of LumiQuest light modifiers to test out, and right out of the box I knew I was sold. Included in the box were a Quik Bounce, a Mounting Strap, and a Softbox LTp.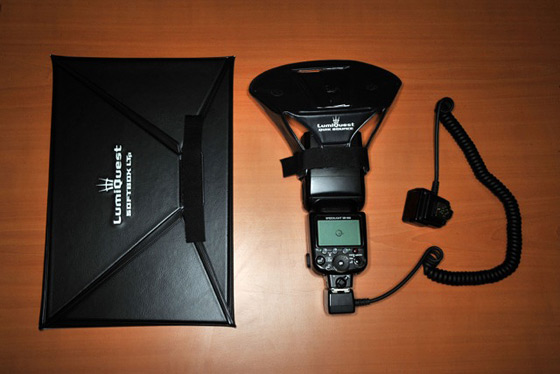 For the recent Voice assignment I brought the Softbox LTp with me. One of the things I immediately loved about it was how effortlessly it folded down. Literally, it took about twenty seconds to remove it from my bag and set it up. By comparison, the Lastolite takes several minutes to unfold, attach to the flash mount and connect to my TTL cord. The Lastolite also is very bulky, even when broken down into its barest components. The LumiQuest, on the other hand, easily fits in my camera bag without creating an unsightly or noticeable lumps. Broken down, it's no larger or thicker then a lightly padded manilla folder.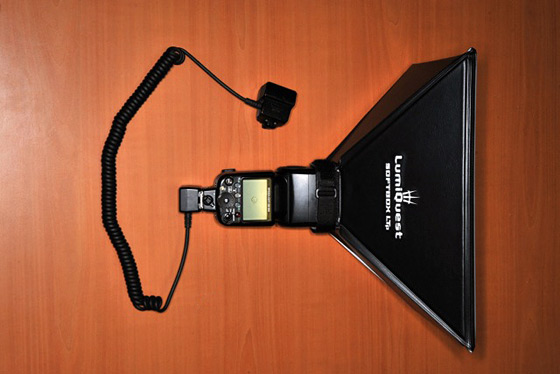 One of the reasons I've tended to stay away from light modifiers such as this was my concern about keeping them properly attached. I often find myself shooting on the flightline, and if an item's not properly secured the rotor wash from nearby aircraft can (and often will) pull bulky gear right out of your hands. With the velcro-covered mounting strap, I'm not nearly so concerned about this happening. The underside is covered in a no-slip rubber that fits firmly around the flash head, and the softbox is light enough that it won't easily pull free.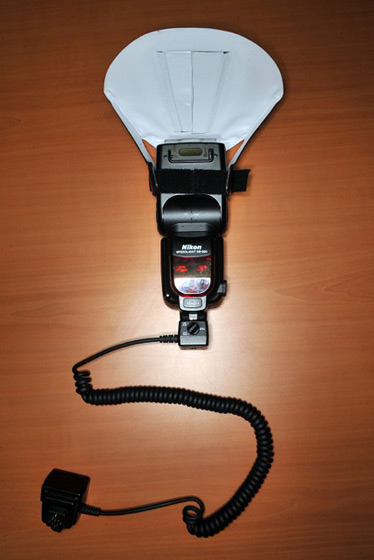 I've also had the chance to play with the Quik Bounce, and under the right conditions it's a great little addition to my bag. There are times when I'm shooting indoors when direct flash would be inappropriate. Bouncing by itself I tend not to use because it creates unsightly, artificial shadows under the eyes and jawline of my subject. I've tried the Gary Fong modifiers before; and while they're good enough for most situations, they tend to be very bulky and can cause problems for other photographers. The Quik Bounce creates a large, even white surface that reflects much of the light from your flash onto the subject, while at the same time bounces it off the ceiling  This allows you to properly illuminate both the background and your subject without making the scene look artificial. For working press and wedding shooters, I can't recommend this highly enough.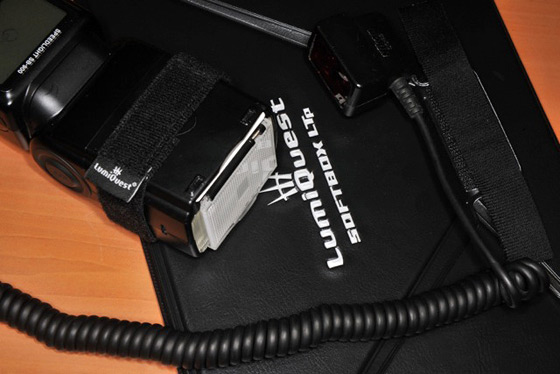 Both the Softbox and the Quik Bounce come with velcro tape that you can mount directly onto your flash, but I'd really recommend picking up the mounting strap. The velcro, over time, can be difficult to remove and leaves a gummy residue that's difficult to remove and kills its resale value.