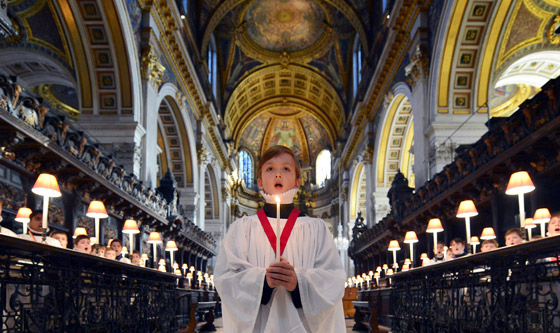 London, England-based photographer Stephen Simpson took photos of the St Paul's Cathedral Choir rehearsing for their Christmas performances.
This morning I set off to St Paul's Cathedral in London to photograph the Choir in rehearsal for their Christmas engagements. I was the first to arrive and was able to sit on my own for a short while in the vast interior – a real privilege in such a building when empty, and a great way to keep warm on a cold Monday morning. My colleagues arrived and soon after that we were joined by 25 or so excitable choirboys ready to have their pictures taken for the papers. The boys and teachers were great fun to work with and thoroughly professional (a lot of people I have photographed in the past could learn a lot from them!) and they were quite ready to be bossed around by a few photographers. It was wonderful to hear the amazing song that so few could make in such a huge space. Here's a couple of my favourite pictures…
See more photos on Stephen's blog.