"Photographers like things, otherwise we would be conceptual artists."
My relationships with camera bags are not much different than my dating career.  Essentially, they are all failures until you find one that works.  Every bag looks great on line and even better in person.  It promises to be the perfect arrangement of zippered slots and padded dividers, until you actually take them home.  Then the funny quirks and charming habits turn that amazing bag into ex-girlfriend material.
Much like in relationships, I've discovered that the biggest problem with camera bags is not the bag, but me.  How could I ever expect to find the perfect match, if I did not know what I wanted in the first place.  I've never met a serious girlfriend in a bar and I've never found a camera bag at a photo shop.  I find that the best bags were never designed with cameras in mind.
For a recent project "Master Craftsmen: An Endangered Species," in Japan, I took a completely different approach to selecting a bag.  The basis of the project was to photograph a series of multi generational craftsmen from Okayama to Kyoto.  It allowed me to take a bag that was more like a traveling studio.  Since they were all relatively closed workshops, I could bring all my equipment, set it down and carry just two camera bodies.  It was a perfect.  Me, my cameras and the craftsmen without the nagging pull of shoulder straps.
Jack Spade Canvas Shop Bag looked more like the tool bags from my days in construction than a camera bag.  It fit all the gear perfectly and I did not show up looking like I have just walked out of a kevlar convention.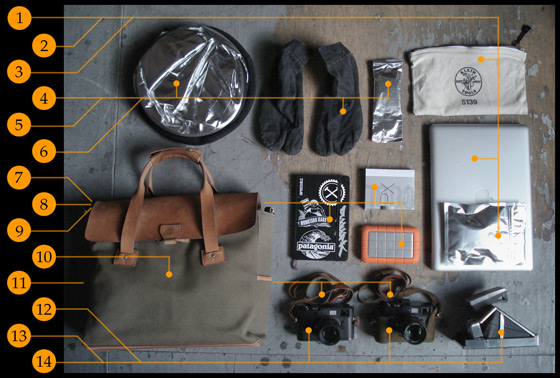 The bag held:
1.  Impossible Project: Dry Age Bag
2.  Apple Mac BookPro
3.  Klein Tool Bag for wires and chargers
4.  Impossible Project: Dry Age Silica
5.  Tabi Boots
6.  Flashpoint 5-in-1 Reflector
7.  Impossible Project: PX100 Silver Shade Cool Film
8.  Lacie 500gb Rugged Drive
9.  Moleskine Journal
10. Jack Spade Canvas Shop Bag
11. Luigi Straps and Custom Reversed Leather Half Case
12. Leica Monochrom – Leica 50mm f/1.4 Summilux
13. Leica M9 – Leica 90mm f/2.5 Summarit
14. SX70 Polariod Camera
( Not pictured: 35mm f/1.4 FLE Summilux was stolen from the Ace Hotel Lobby after I returned from Japan )