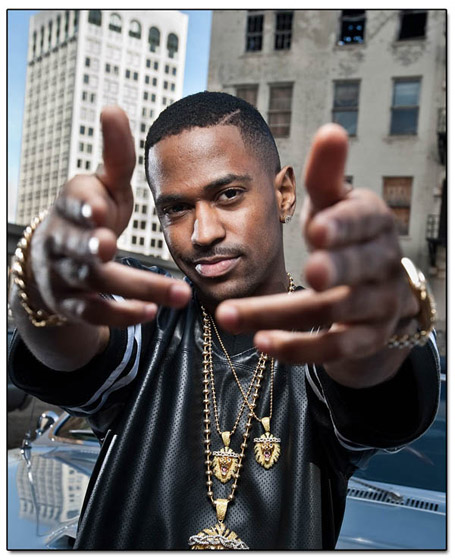 Detroit-based photographer Bryan Mitchell had a portrait shoot with rapper Big Sean.
I photographed Detroit rapper Big Sean last week for the Detroit News. Adam Graham, the awesome music and pop culture writer for the News, texted me to say Sean and a crew were shooting a music video for "Guap" (the lead single off his next album "Hall of Fame") around Detroit and they invited the paper out. Adam wanted to know if I was interested in shooting photos and since I've photographed Sean before I though it would be cool. He also mentioned we might be able to pull Sean away for a few minute to get a portrait of the rapper for the papers GO section, which is out today. (see cover below) It wasn't a sure thing however since the their focus for the day was getting the video shot.

I arrived at the first location in the morning and grabbed a few behind the scene images as they were finishing up the first part of the shoot. They stopped for a break while the crew moved to the next location. There was a staging area set up with motor homes for Sean, the cast and crew. So we went there and waited. Shooting was suppose to start back up about 11:30 so since I still wasn't sure about the portrait I started looking around the area we were in for something I could use as a location for the shot.
Continue reading and see more photos on Bryan's blog.