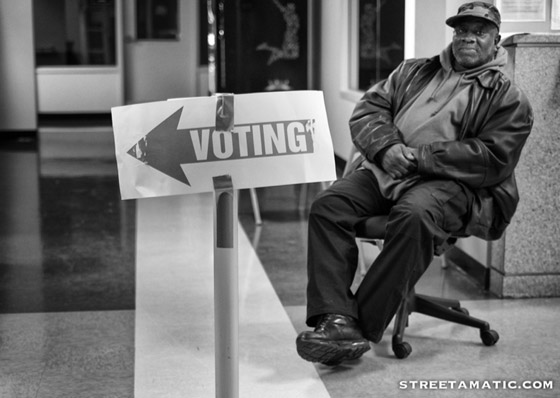 DC-based photographer Messay shares photos of the election day in Washington, DC.
Over the last few weeks, I have thought about ways to cover the 2012 Election Day in Washington, D.C. I wanted to capture scenes starting from early morning until late evening when final results would be announced. Here are a few ideas I threw around before heading outside with my small 35mm camera.

Plan A: Cover the different polling locations throughout Washington, D.C.

Covering different polling stations across the city seemed to be the most obvious thing to do on Election Day. But, it does not take a genius to discover that taking pictures of people standing in line to cast their vote is not that exciting. No fist fights and bloody noses to make for dramatic photo imagery. The most drama you will see is just frustrated citizens waiting on long lines in the bitter cold to fulfill their civic duties. After visiting four different "uneventful" voting locations in the city I started to think that the horizon for my photo adventure on Election Day should expand beyond Washington, D.C. and into the "red" zone of Virginia.
Continue reading and see more photos on Messay's blog.