C.S. Muncy
is a freelance photojournalist based out of New York City with a client list that includes The New York Times, The Wall Street Journal, Newsday, The New York Daily News and The Village Voice. As a freelancer, he's covered such subjects as the BP Oil Spill, the fight for same-sex civil rights, the takeover of the state capitol in Madison, Wisconsin and Occupy Wall Street. A graduate of the Defense Information School, he enlisted in the United States Air Force in 2002 and is currently a photographer with the New York Air National Guard.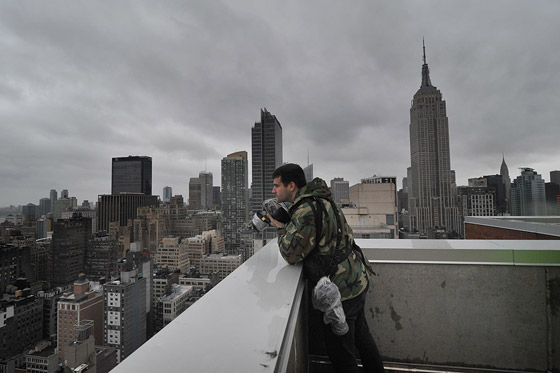 When Irene blew past the area last year many forecasters over-hyped it, and as a result I over prepared for it's effects. With that in mind, just prior to Sandy's arrival I did the opposite, leaving a few badly needed supplies in my apartment when they should have been in my bag. Now that the immediate danger is passed (though there is still a massive amount of damage, loss of life, and long-term problems that the region's going to have to deal with) I thought I'd share some of my notes on the practical aspects of covering a disaster in terms of gear, teams, and general advice.
The first thing I'd suggest is that it's important to work in a team. This can be problematic if you're working for multiple papers or agencies with differing agendas, but the advantages really override all of this. A team puts multiple eyes on the scene, which helps to spot stories when you're blasting down a narrow city street at forty miles an hour. The day after the storm one member of our group badly hurt his leg and had to be taken to the hospital. We were in the middle of one of the most damaged parts of Staten Island, and if he had been alone he would have been at a severe disadvantage. Of course, it helps to keep the group small. At one point we had six photographers in the car, which really isn't practical in the long term. We had a tight-knit crew that worked very well together.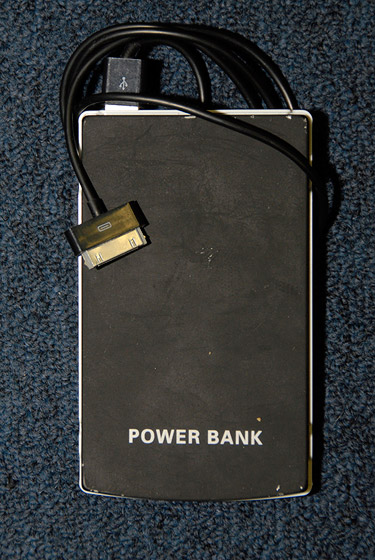 Keeping everything with a battery charged was difficult, especially in the beginning. Without a built in AC adapter we struggled from one half-closed hardware store to the next trying to find a proper charger for our phones, cameras and laptops. Eventually one of our desks had one to pick up, but for a while we were running pretty close to empty. I regularly carry a Power Bank, a cheap battery with a USB port that can keep a phone charged for days. I also carried a crank-powered flashlight (you can also pick up crank-powered kits that contain flashlights, radios and cell-phone chargers) and multiple camera batteries that I keep charged in case of emergencies like this.
My police scanner was one of the most powerful tools in our kit. Through this device, we found out about the smashed construction crane in Midtown, the looting in Coney Island and the missing children in Staten Island. In situations like this, it probably would have helped to have more than one (one to cover the NYPD zone we were working in, and one for citywide.) Be sure to keep a map and list of all the frequencies you'll need somewhere close by. It also helps to know (or have written down) the radio "Ten codes" so you understand what everyone's saying.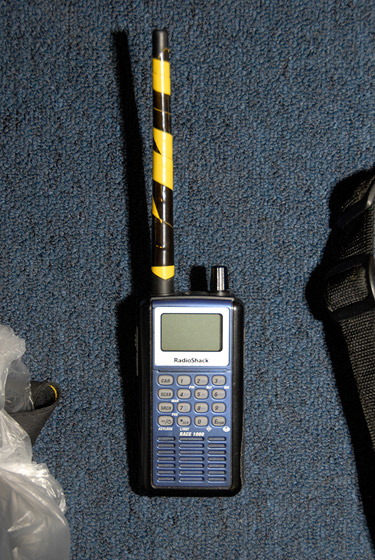 When it comes to protecting your gear, there's a couple of options. Originally, I wrapped my cameras in plastic wrap and electrical tape. This works very well in keeping your camera dry, but it makes it difficult to look through the viewfinder or change any of your settings. Another option I tried was a Op/Tech Rain Sleeve, essentially a plastic sock with a drawstring at the end. You're more likely to let water or condensation in, but it gives you more control. I also own and used a Rain Coat, but I found it somewhat cumbersome and not entirely waterproof. My modified, all-weather NewsWear Chest Vest also worked great in protecting my memory cards, Xpan, and batteries.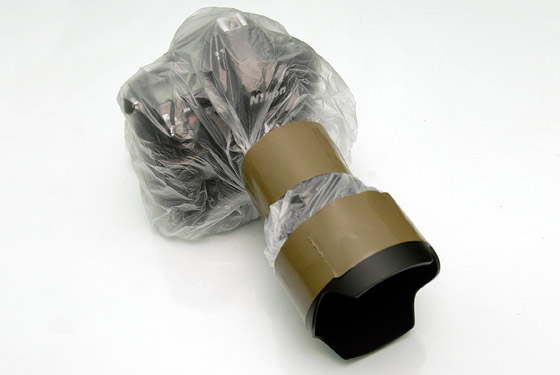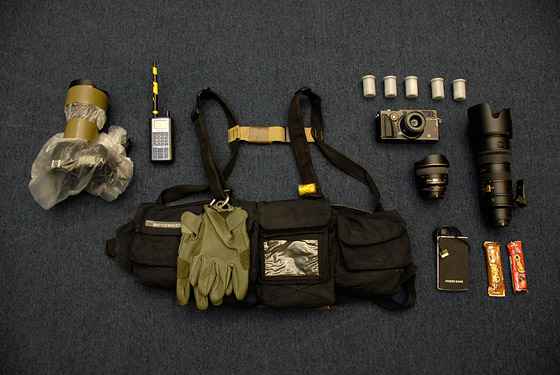 While on the subject, remember to protect yourself. I brought my old Air Force-issued Gore Tex parka, which was incredibly effective at keeping me dry even during the worst of the storm. I also had my old helmet and goggles. For the most part they stayed in the trunk, but there were a few points when I'm glad I brought them. One things I didn't bring, but should have, were some kind of gloves. While wading through the water on 23rd Street after the ConEd plant blew, I busted my knuckle on something. It's sore as hell, but I think I dodged a bullet since it doesn't seem to be infected. Also know that whatever you wear is probably going to get coated in fuel oil, chemicals, and otherwise contaminated water and mud. When you're done, toss it. No amount of cleaning's going to entirely make it right again. Also, remember that bodegas, grocery stores and minimarts are probably going to be closed, or at least powerless. Carry cash, and pack extra food like powerbars or beef jerky. You want lots of protein and carbs, because you're going to be burning calories at a brisk pace.
Lastly (and I've mentioned this several times before) get yourself some city-issued press credentials or press plates. At no point during the storm was I prevented from taking photos, and we were waved through police lines and road blocks the moment we flashed our credentials.
If you find yourself covering a story like this in the future, be aware of yourself and your surroundings. Don't be a burden to the rescue workers around you, and above all, be respectful of the people you're covering. Don't be a tourist. Don't be an asshole. You're not there to take beautiful photos or make art, you're there to tell their story and bring attention to their plight.