C.S. Muncy
is a freelance photojournalist based out of New York City with a client list that includes The New York Times, The Wall Street Journal, Newsday, The New York Daily News and The Village Voice. As a freelancer, he's covered such subjects as the BP Oil Spill, the fight for same-sex civil rights, the takeover of the state capitol in Madison, Wisconsin and Occupy Wall Street. A graduate of the Defense Information School, he enlisted in the United States Air Force in 2002 and is currently a photographer with the New York Air National Guard.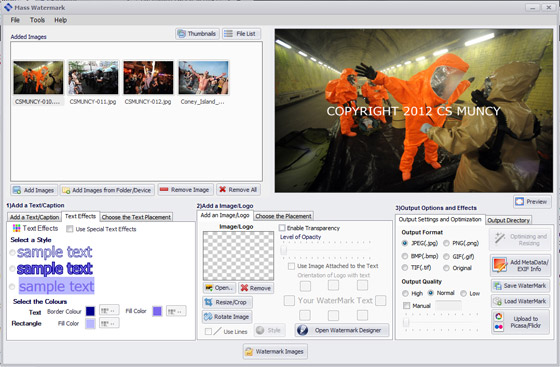 A few weeks ago I posted an image I took while on assignment to Facebook and Twitter, making sure to properly, prominently watermark it before dropping it online. Shortly after the image went up, one of my followers reached out to me, complaining that I was ruining the image by the awkward "COPYRIGHT 2012 CS MUNCY" centered over the subject. "I love when people ruin photos by sticking huge watermarks all over them," he posted, leading into a lengthy back and forth on the power of an image versus the value of claiming ownership over it. And the truth was that while he wasn't entirely wrong, he failed to understand that the moment you lose control over your image is the moment its value drops down to zero. Social media can be a fantastic tool to get your work out there and seen by editors, but it can also turn into an easy way to have your work stolen, misappropriated or abused. It's happened to me plenty of times, so much so that I rarely post an image online these days without a watermark. I once even found my work used without permission or attribution by a (wait for it) journalism school. It's so simple for an intern or neophyte producer to find work online and simply make a screen grab that few even realize they're doing anything wrong.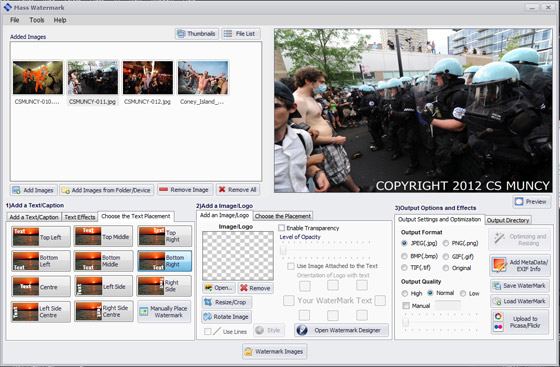 Adding copyright information to a large number of images can sometimes interrupt your workflow and slow you down. Enter "Mass Watermark," a new program that, as the name implies, allows you to watermark a large number of images all at once. It's an intuitive, easy to use program that's great when you need to mark multiple images. It also allows you multiple options for text placement, effects, and transparency. There's also a handy option for mass-resizing your selected images, and for adding and editing the metadata. This is particularly useful when you want to file a large number of images up to your editors through your phones internet connection. There's also a neat little option for using a custom-made image as your watermark.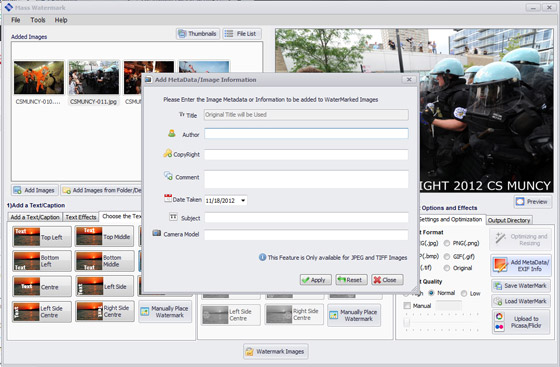 This is a new program though, and like all new programs it does come with certain issues. I found it to be somewhat buggy, requiring me to restart it at random intervals whenever I wanted to batch edit my images. When you're working under a tight deadline, this can be a very big problem. If I'm scrambling to resize my images so I can send them in before the competition, I don't want to have to worry about whether or not the program's going to crash on me.
Once these teething issues are ironed out though, I can easily picture myself using Mass Watermark on a regular basis. Its simplicity is its most attractive feature, and its $30 price tag isn't terribly expensive when compared to the price of other photo editing software.
(UPDATE) – I've been in touch with the techs at Mass Watermark, who have been extremely responsive and did some research into the errors I've been receiving. The issue may have been a relatively rare one, but they've worked on an update and since installing the patch, the program now runs perfectly. Aside from just putting out a great program, their customer service has left me very impressed.