Nic Coury
is a photojournalist based in Monterey, Calif. He has had work published in Sports Illustrated, Cycle World and Bicycling magazines, and has shot commercial jobs for Specialized Bicycles, Ferrari and Bugatti. He also covers crime for a local newspaper. In his free time, he drinks too many espressos and wins mustache competitions.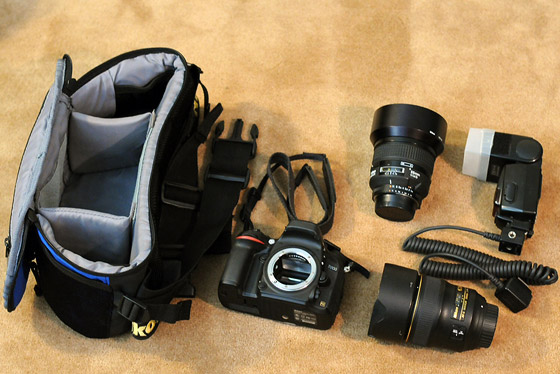 I might like camera bags more than I like my cameras. I really have too many, but they're all different and I do use them all.
I have the Think Tank roller, which is the main working bag and carries everything to a shoot. It is usually paired with the Think Tank belt system, which saves my back during news events and sports assignments. And finally I have the Domke shoulder bag for when I'm packing light.
Inside these bags are a wonder of cameras, lenses, business cards, lint and endless other things.
The first lens I ever bought was a Nikon 50mm f/1.4 for my D50 in college and I built up equipment from there. I got whatever I could afford and wanted, but not what I necessarily needed. Now, I have my bags packed with stuff I actually use on a regular basis. They fit the role of photographing news, sports, food, wine and portraits just fine.
I tell people all the time I could do 90% of my workflow with a 35mm and 85mm. After I bought my D700, that was seriously all I needed. Occasionally something wider or longer was needed, but rarely. As a photojournalist, it's clique than the 35mm works so well, but it does and I love it.
In the last year, I've started shooting video for clients and needed a body that shot video, so I went through the ranks of cameras and recently acquired a Nikon D600, which, aside from a few minor gripes, I love as much as my D700, which has had one shutter replaced and still working great.
My 300mm is a staple in the sports arena for me, but occasionally pops out for other gigs.
When I'm asked to speak at school photo classes, I am typically asked what I carry and it's an easy answer: know what you're shooting and plan accordingly. I never take more than I need and improvise if I need more.
I've switched off zooms, mostly due to their weight and bulky factor, but I'll pull them out occasionally. As I get older, and mainly after my back injury a few years ago, I like the motto of "Smaller, faster and lighter" for my equipment. It is just what works for me.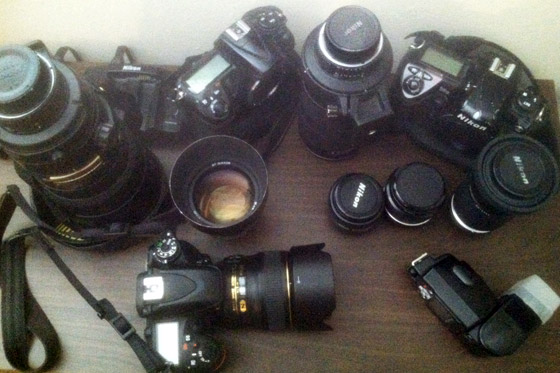 Cameras & Lenses
– Nikon D700 (Best camera I've ever bought.)
– Nikon D600 (Small, light, works great.)
– Nikon D2H (My first pro camera; now a still-functioning paperweight.)
– Nikon 35mm f/1.4
– Nikon 50mm f/1.4
– Nikon 55mm f/3.5 (manual-focus goodness from the 70s. Cost me $40.)
– Nikon 85mm f/1.4
– Nikon 75-150mm f/3.5 series E (another cheap purchase and sharp, good for traveling light.)
– Nikon 80-200mm f/2.8 AF-s
– Nikon 300mm f/2.8 AF-s II (stupid sharp)
– Nikon 1.4 II teleconverter
– Nikon 2.0 III teleconverter
– Nikon SB-800 (2)
– Nikon SB-900
– Nikon SB-24 (great full-manual flash. $35 on Craigslist)
– Pocket Wizard Plus IIs (4)
Other Stuff
– Camera Batteries
– CF/SD cards
– Zoom H2
– Sennheiser MKE-400
– Filter wallet (neutral density and polarizers)
– Pens and reporter's notebooks and business cards
– Gaffer's tape
– Umbrellas and light stands
Camera Bags
– Think Tank Airport International V 2.0 roller
– Think Tank Modular system (so many pouches…)
– Domke F-4 (tattered to hell, but a $40 purchase. I love it for smaller assignments.)
– LowePro Sideline Shooter (perfect for smaller assignments when a 35mm, 85mm and a flash is all I need.)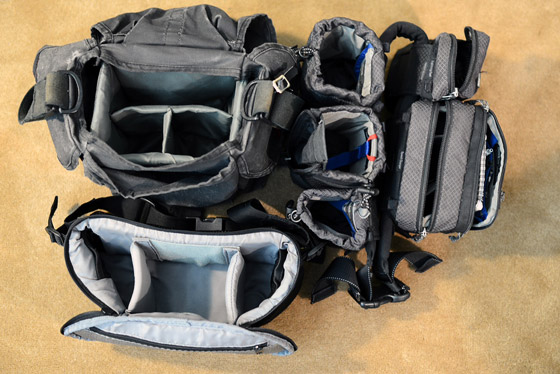 We appreciate your continued support! If you plan to purchase any of the items mentioned above, please use the links in the post to help support The Photo Brigade.