I'm doing a world tour by bike with my girlfriend. This dream is becoming true after 2 years of preparation: saving money and studying countries, climates, and technical stuff like bikes, tents, and all the equipment for 18 months. Our life for the next year is all packed on our bike. You can find the bedroom, kitchen, bathroom, and the photo lab on the side of each wheel of the bicycle… The "photography lab" is all we need for working on the thousands of photos to come: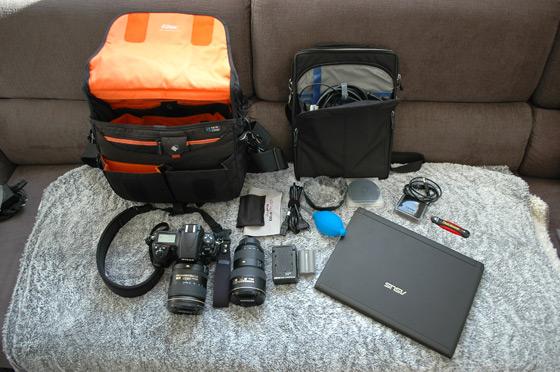 – Vanguard Up-rise 28 shoulder bag
– Nikon D700
– 24-120mm f/4 VR G
– 16-35mm f/4 VR G
– 2 battery / 1 charger
– 1 B+W slim polarized filter
– Cleaning tools (lens pen kit and sensor clean, dust blower)
– Think Tank Artificial Intelligence 13 computer bag
– 13″ laptop and Lexar USB3 CF Reader
– Corsair USB3 64Gb (photography backup)
As I said before, I'm not a professional and it was hard to realize our dream. Saving money is not a simple thing to do now and I've worked hard to afford all the photography and bicycling equipment.  For example, I've photographed weddings to earn extra money on top of my day job (micro-computing), as well as overtime at work.
Now we go! We cannot wait anymore. This dream is becoming a reality and we look forward to meeting different cultures, people and places.
Unfortunately we don't have all money needed to travel by 25,000 kilometers. Our auto financial contribution is about 17000 kilometers approximately (1km = 1€ including food, équipment, visas, flight, etc…). It represent more or less 75% of the initial route.
So we need help to accomplish 100% of our dream, riding 25,000 – 27,000 kilometers to visit every country on our list.

I have started a donation call through Paypal on my website and, if you are interested in this project, you're welcome to donate between 10€ and 60€ to help us.
We are asking that you sponsor us by kilometers: 1 km = 1€.
In exchange for your donation you will receive a postcard from us around the world:
– From 10€ to 20€ (10 – 20 km) : you'll receive 1 postcard
– From 20€ to 40€ (20 – 40 km) : you'll receive 2 postcards
– From 40€ to 60€ (40 – 60 km) : you'll receive 3 postcards
If you see us on the road, please stop us and say hello!