Let me just get this out of the way, I am not a gear head. I know this seems like what every photographer says, but I truly mean it. My eyes gloss over when someone comes up at a news assignment and wants to talk megapixels or, god forbid, lens sharpness. I believe strongly in using the gear you have to its fullest capability, upgrading only when the gear doesn't do what you need to do, and then only investing in gear that will work better and can make you money.
As a freelancer, I depend on my gear to do its job well, but also, to earn that cheddar — throwing down huge funds at every new lens or SLR that comes out wouldn't make sense. And I can't afford that anyway. If you're new to the field, please know that you can use a second generation camera, or a half-stop slower lens, and still make great images. You just might have to work harder, and that's where your determination and passion for this job will have to emerge.
I am fortunate to be able to travel around incredibly beautiful Washington state for my assignments, which range, generally, from news, sports and weddings to editorial portraiture. Of course, all of these different assignments require quite different kits, and my current gear and bags allow for shooting all of these well. I enjoy portraiture the most, and recently have been investing in more lighting equipment as I move down this path.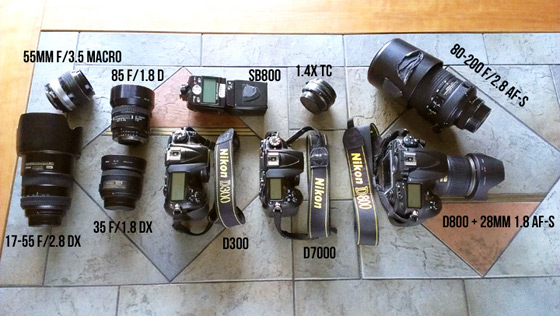 I have shot Nikon my entire career. It started out of necessity. I began shooting in high school for the yearbook and newspaper, and the equipment closet for us to exploit was all Nikon. There were tons of lenses, actually, from 18mm to 80-200's — but only a couple bodies. So I bought my own 50mm f/1.8 and a Nikon D70, a blazing 6-megapixel beast, for about $1,200. That was a lot of part-time job money, but it let me work on the weekends and build up a portfolio by the time I left for college. I used that 50mm f/1.8 as my only lens for about a year because I was saving up for a wide angle. I am still shooting Nikon, even though I miss having access to that glorious gear cabinet. I wonder if it's still there…
These days, my gear is a little more advanced:
Cameras & Lenses:
– Nikon D800
– Nikon D7000
– Nikon D300
– Nikon D70 (still works!)
– Nikkor 17-55mm f/2.8 DX
– Nikkor 28mm f/1.8 AF-S
– Nikkor 35mm f/1.8 DX
– Nikkor 55mm f/3.5 Micro (manual everything)
– Nikkor 80-200 f/2.8 AF-S (non-VR)
– Nikkor 85mm f/1.8 D
– Nikkor 1.4x TC
Lighting & Grip:
– Alien Bee 800 (3)
– Vagabond Mini
– Nikon SB800
– Nikon SB28DX (2)
– Pocket Wizard Plus II Transceivers (4)
– Pocket Wizard Motordrive cable for Nikon
– Paul C. Buff 22-in. Silver-coated Beauty Dish
– Paul C. Buff Soft-silver 86" PLM Umbrella
– Paul C. Buff 10"x36" foldable stripbox (2)
– Photek Softlighter II 46-in.
– Avenger 2030 C-stands (2)
– Avenger D600CB Boom Arm (2)
– 40 in. 5-in-one reflector (often used shoot-thru)
– Bogen 3021 Tripod w/ RC head
– Bogen Variable Friction Magic Arm
– Bogen Monopod
– Assorted 6-10 ft. light stands
– Assorted 5-25lb sandbags
– Assorted extension cords
– Assorted rubber A-clamps
– Assorted gels I rarely use
Bags:
– Think Tank Shape Shifter (day-to-day PJ/editorial bag)
– Think Tank Modular Component Set V2.0 (wedding setup)
– LowePro AW40 (walkaround bag for 1 body and a lens or two)
– LowePro CompuTrekker AW (backup body and lens storage)
– Photoflex Transpac Rolling Case (most of my lighting equipment)
Software:
I keep this very simple since most of my work is editorial
– PhotoMechanic for ingesting, rating, captioning and browsing
– Adobe Photoshop Camera Raw, I shoot everything in raw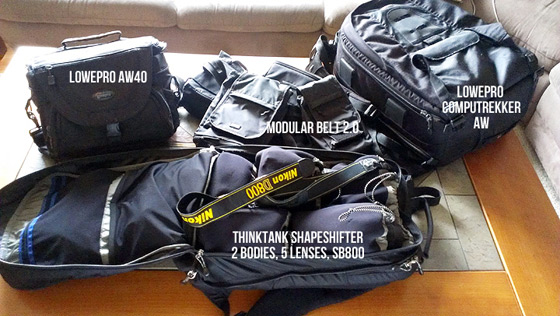 For my day-to-day work, my bag of choice is the Think Tank Shape Shifter. I bought it from an AP shooter in town who won it from CPS. It says Canon on the front. Nothing a little gaffer tape can't disguise, eh? The bag is a dream to use. Depending on what I am shooting, I usually load up the D800, D7000, 17-55, 80-200 and the macro lens, plus a laptop if I have to transmit from the field or want to shoot tethered. I use zooms for most of my lit environmental portraiture and news assignments. If I know I will be in a low-light environment, the bodies stay the same and I switch out for the 28mm 1.8 and the 85mm 1.8 lenses. I like the variety of having zooms and primes, and really try not to get bogged down in this "debate."
You have to know when to use which, and in a fast-moving news or sports assignment, I usually opt for a wide and a telephoto zoom on two bodies. For my wedding work, I also use two bodies, but go for the wide and tele fast primes mentioned above. I put the 80-200 2.8, 17-55 2.8, macro lens, flash and clif bar into the Think Tank belt setup. Even though you definitely look like Batman with the belt on, grabbing different lenses is easier, and it's nice to not knock things off low tables when turning around anymore (sorry Starbucks!)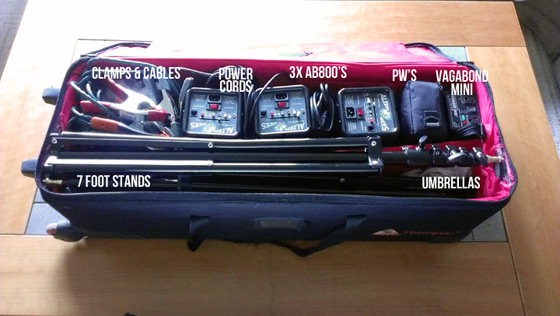 My Photoflex Transpac Rolling Case is heavy empty and heavier loaded up with most of the lighting gear mentioned above. In this, I pack 3 Alien Bee 800s, the Pocket Wizards (in a cheap Optech case that fits all four), two compact light stands, the Photek Softlighter II, two 30-in. black reflective umbrellas, power cords, backup sync cords, gaffer tape, some cinefoil, A-clamps, printer paper to use as cheap bounce cards, metal reflectors and the 5-in-1 reflector.
The C-stands, booms, beauty dish and stripboxes, as necessary, are brought in separately from the car. Even though they're heavy and totally cumbersome, the C-stands and booms are crucial to positioning my lights overhead and/or exactly where I want.
I know many shooters compartmentalize their equipment into separate bags, but since I rarely have an assistant, I like being able to bring in most of the lighting gear all at once. It saves trips back to the car and I appreciate not having to look through multiple bags while setting up.
Okay, enough of this navel-gazing. I have a shoot to edit.