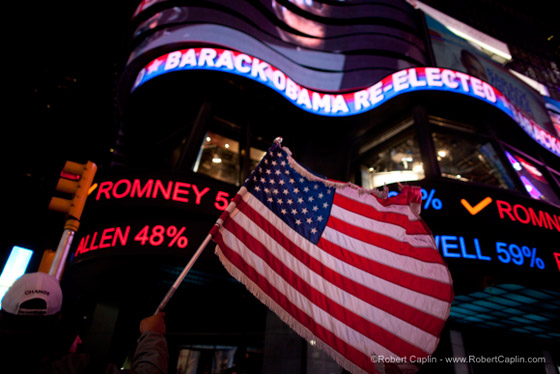 NYC-based photographer Robert Caplin covered the election results in Times Square.
Yesterday was a long day covering various stories for the NY Times. I woke up early and excited that it was election day and promptly walked a block to my polling place to vote. Fortunately for me, it only took 15 minutes to wait in line and exercise my civic duty.

Afterward, I hit the city to work on a long-term documentary about an interesting fellow…but I can't talk about that until it publishes…so stay tuned.

From there I was off to a late-night improv club where I was tasked to document one of the musicians for a profile on the NY Times around 10PM. It was a hilarious experience and I intend to go back to the club soon with my wife for an evening of fun!

At about 10:30, though, the NY Times Metro desk called me and asked me to get to Times Square where large crowds of people were gathering to watch the results of the presidential elections come in. Given NY, especially Manhattan, is a blue state, my editor was hoping I could get some jubilation shots if/when President Obama won.
Continue reading and see more photos on Robert's blog.