Ingrid Spangler is a freelance social media consultant living in New York. She's been snapping pictures since she was a child and involved with social media since before it was called social media. Before going out on her own, she handled the social media for AdoramaPix, the photo lab division of Adorama Camera, for four years. You can find her on Facebook, Twitter, flickr, 500px, Google+ and Pinterest.
Stopped by the UNDFIND booth at PPE last month and met Tony who was just filled with energy and enthusiasm for his product. We had a great time talking about the bags and I was bowled over by the selection of custom fabrics they had on display. Tony invited me to choose a fabric (I picked an artsy black white and gray flowery print) and he assembled a bag for me right then and there! The following weekend, I had a shoot at a friend's theater show in Times Square and had borrowed a 70-200 for the occasion. I also wanted to carry my 50mm with me to maybe get some shots outside the theater, so I decided to take the bag for a spin.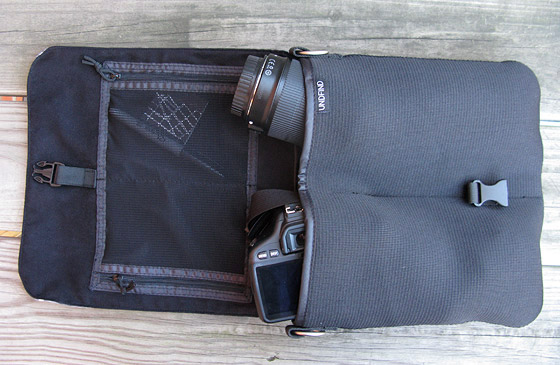 While there's an optional shoulder strap, it's a bit heavy for my liking and the real great feature of this bag (and why it's called The Waist Shooter!) are the straps on the back, that, once they are unvelcro'ed, loop over your belt and secure with another velcro tab at the bottom of the bag. Now you've got this great lightweight (1.4 lbs!) AND great looking bag hanging off your belt, not off your shoulders. If you want to make it even more lightweight and even easier to access, you can always detach the front fabric flap, but you might want to think twice about doing that as the lining of it is also a lens cleaner! I kept the 70-200 on my camera, and filled the bag with the 50mm, extra batteries, cards, my flash unit and some other odds and ends.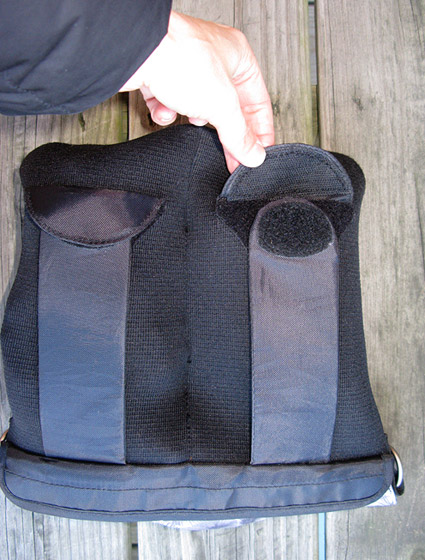 The fabric is a neoprene which besides being soft and light is also stretchy; this is how you get a large lens like the 70-200 in it (note the hood may peek out the top), since when it's empty the bag is pretty flat. There are also a couple mesh pockets in the front flap, that, if you leave it on the bag, are great for really small items, business cards, a protein bar, lens cloth, a remote shutter release.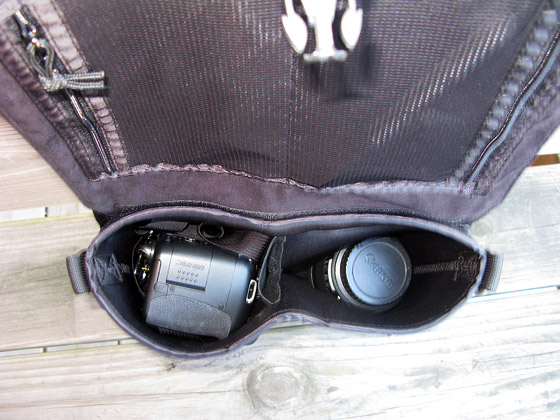 I have all kinds of spine and disc issues so I don't like to carry anything really heavy if I don't have to, and this bag fills the bill. Then there's the bonus points of the fabric flap on the front which makes it stylish and chic, yet still geek. Four cameraheads out of four!