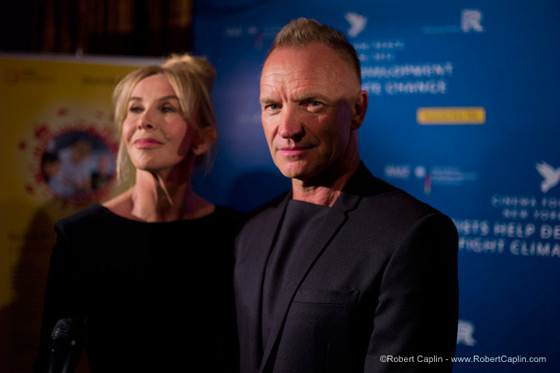 NYC-based freelancer Robert Caplin photographed recording artist Sting at a Cinema For Peace event while on assignment for a corporate client.
Most corporate shoots are boring and involve photographing stiff executives speaking at a podium and shaking hands. But that wasn't the case a few weeks ago when I photographed a special event held at The Harvard Club in New York City. The event was a fundraiser for Cinema For Peace, a worldwide initiative promoting humanity though film and has events all over the world with big celebrity backers. I was shooting the event for one of the sponsors, a bank based out of Berlin.

My task was to photograph the CEO of the company interacting with the celebrities and other business executives in attendance. This particular event was a fundraiser for the organization and raised money through auctioning some amazing prizes that ranged from Sting's autographed guitar (sold for $20K), guest starring in upcoming movies, official after-party tickets to the Golden Globes, to yachting adventures around the world.
Continue reading and see more photos on Robert's blog.