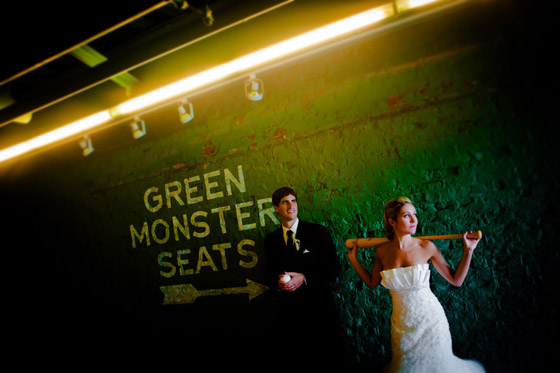 Sarasota, FL-based editorial and wedding photographer Chip Litherland shot a wedding at Fenway Park in Boston.
Well, it doesn't get more Boston than this wedding yesterday.

Kim and Blake approached me to shoot their wedding while I was on an editorial shoot for a newspaper where Kim works down here in Florida…well, actually, this was after I saw her engagement ring and began to pry her for information on if she had a photographer yet.  She then proceeded to tell me about their plans to get married at Fenway Park – home of the Boston Red Sox – and my eyes lit up.  A few emails and a quick "Yes!" (from me) I was buying tickets to head up to Boston and be there for them as they took to the right field upper deck and did this thing surrounded by their family, friends, and one big Green Monster.
Continue reading and see more photos on the Eleven Weddings blog.