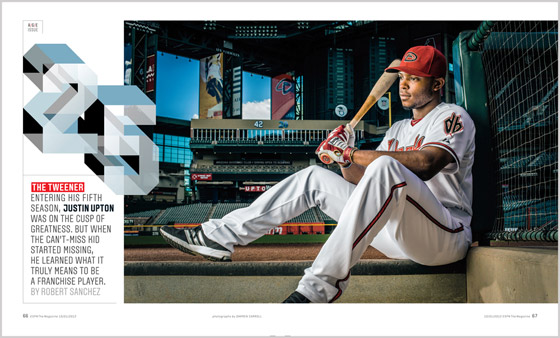 Austin, TX-based photographer Darren Carroll had a portrait shoot with Arizona Diamondbacks right fielder Justin Upton for ESPN Mag.
One of my primary goals in any portrait shoot is to maximize my use of the time my subject has given me, and not to waste his. At the same time, I have a responsibility to give the client a number of different looks at a subject; I always like to discuss what they'd like to see, shoot that, and then throw in a couple of my other ideas, time permitting. It's a delicate balancing act– I have a number of things I'd like to try and do; it's my job to fit it into the time frame I've been given. That means that once I come up with what I'm trying to get out of a portrait shoot, it's up to me to figure out a way to set up the various shoots to maximize efficiency and ensure that I stay within my allotted time.

I'm used to dealing with athletes with demanding schedules, and with their media or public relations managers who (rightfully) want to make sure that their player's or client's time isn't taken advantage of. What was paramount for me, then, when ESPN: The Magazine assigned me to a portrait shoot with Arizona Diamondbacks right fielder Justin Upton, was to know what I wanted to shoot, where I wanted to shoot it, and finish on time.
Continue reading and see more photos on Darren's blog.