Eric Thayer is an American-born freelance photojournalist who works regularly for clients such as Reuters, The New York Times and Getty, among others. He has extensively covered politics, breaking news and issue-based reportage. He is currently based in New York.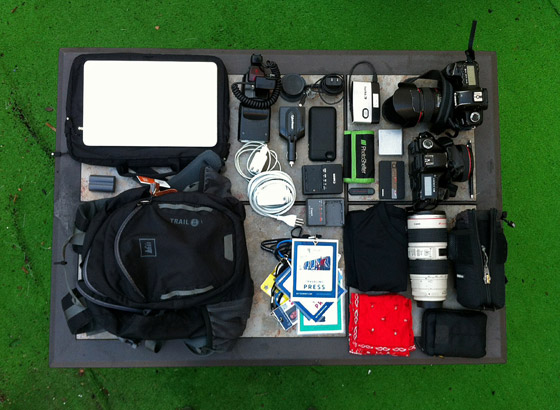 When I was going to school, I remember bigger being better. I wanted the fastest and largest cameras I could get, and couldn't wait to save enough money to get rid of my primes, a 24mm and a 50mm, and buy a 17-35mm zoom lens and a Nikon D2H.
Somewhere along the way, I have reverted to using a 24mm and a 50mm, and have traded the large cameras for smaller cameras again. I've also tried to minimize the amount of gear I carry. When traveling, it's tough to carry all that gear.
That being said, ask my friends, I am a notorious gear borrower. If I'm covering something that requires more than a 5D, a 50mm, a 24mm or a 70-200mm, I will hit you up for a lens or a faster camera. But for the most part, I can work with what I have in most situations.
I use a 5D (which I bought after selling all of my Nikon gear when I moved to New York) and a 5D Mark II, a couple of primes, and a zoom that mostly stays in the pouch.
My bag is an REI backpack, but for a long time I used a Domke. Though that was before I had to carry around a laptop. I recently purchased an 11-inch MacBook Air, which has been great for travel.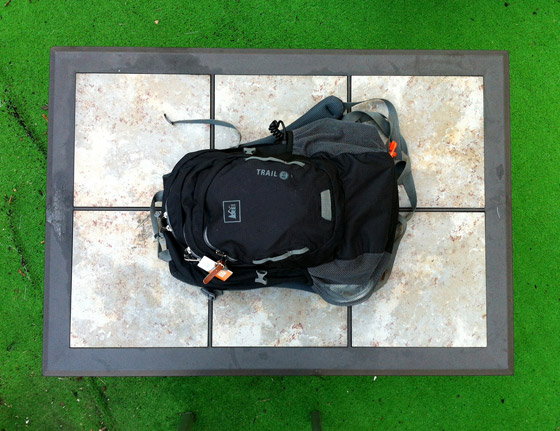 Gear list:
– Canon 5D Mark II
– Canon 5D (sold all my Nikon gear in 2006 to buy this camera)
– Canon 24mm
– Canon 50mm
– Canon 70-200mm
– Think Tank Whip it Out (for my one zoom)
– MacBook Air 11"
– InCase laptop sleeve
– Some kind of flash, that I keep around mostly in case I really, really need it
– Power inverter (I find this great for rental cars and pool vans)
– Mophie iPhone charger (the iPhone battery is terrible)
– Battery chargers, power cords
– Holga lens for Canon (I bought this in Iowa, used it a couple times, then left it in the bag)
– Card reader I borrowed from Stan Honda on the 4th of July (sorry Stan, I'll return it when I see you next)
– Backup card reader I still owe Luke $9 for (yes, I burn through card readers very quickly for some reason)
– ThinkTank card wallet
– Verizon 4G mifi
– Bandanna from Eddie Adams Workshop (Red team 2004)
– REI midweight base layer (for cold weather and padding)
– Credentials (including my expired NYPD and UN credentials)
– 1TB Lacie Hard Drive 
– One backup battery for a 5D