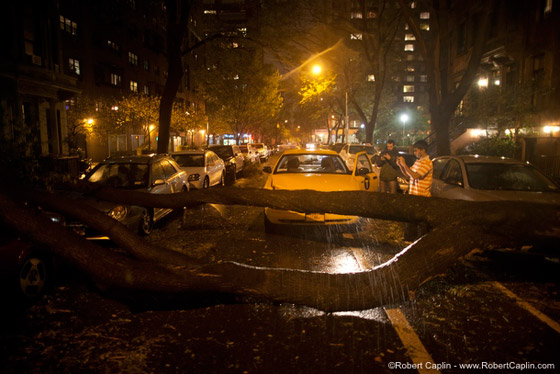 NYC-based photographer Robert Caplin documented Hurricane Sandy's damage on his block on the Upper West Side.
Four or five days ago I heard there was a hurricane named Sandy brewing and could possibly hit NYC. I wasn't very concerned as I'd been through Hurricane Irene about a year prior with little or no inconvenience to us personally. I live on the Upper West Side of Manhattan close to Central Park which is one the highest parts of the city. Also, I'm in an apartment building which is essentially a fortress of brick and stone as every building down a block touch each-other. It's not like in the movies…there's very few alleys in Manhattan. Also, for the most part, Manhattan doesn't lose electricity from wind or storms because our entire electrical system is underground.

Anyhow, as the storm got closer, there was a little more panic setting in as I saw that the grocery store had massive lines, and the 24 hour fruit vendor on my corner was completely sold out…he never sells out. My wife and I decided to go ahead and get some extra food just in case the worst happened.
Continue reading and see more photos on Robert's blog.