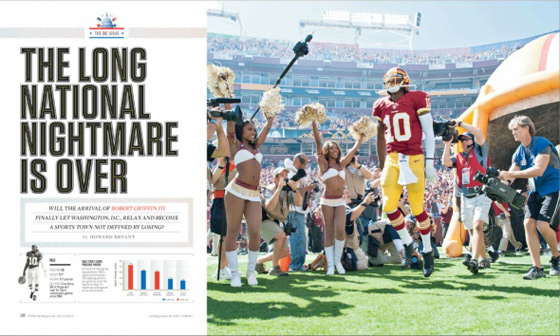 NY-based photographer Rob Tringali covered the Redskins against the Bengals for ESPN the Magazine's DC Issue.
I recently got a cool assignment to cover the Redskins and Nationals for ESPN the Magazine's DC Issue. For the Redskin segment, Deputy Photo Editor extraordinaire Jim Surber, gave me pretty basic instructions to shadow Robert Griffin III, wherever he went I was to capture it. These are my kind of instructions, tell me where and who and let me do my thing.

The game we were covering was the Redskins home opener on September 23rd against the Bengals. I was guessing with all the hype, it would be a pretty busy sideline, which it was, but totally workable. I've been going down to DC since I starting shooting, matter of fact, I assisting my first football game in 1986 at the old RFK stadium and immediately got the bug.  I've made many trips to Washington since I starting shooting, but honestly can't remember going down to shoot a Redskin player, it was always to shoot an opposing player or team.
Continue reading and see more photos on Rob's blog.