In this week's Being Social, I'm going to talk about being social and surviving at industry trade shows. As you probably know, PDN's PhotoPlus Expo, the biggest photo show in the US, takes place right here at NYC's Javits Center October 24-27 . If you've attended this or any other photography trade show before, you know that these can be exhausting and overwhelming yet really fun experiences. Here's how being social at a trade show can pay off without leaving you spent!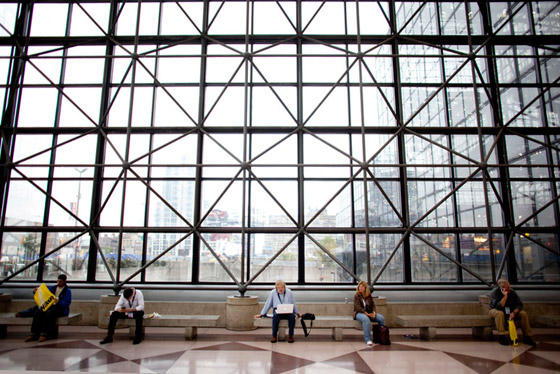 Pace yourself and plan. First things first. If there are certain booths you want to make sure you have time for, grab a show floor map and plan your route. Don't try to be a hero and wing it. I've seen grown men reduced to tears on day one because they overestimated their ability to walk a trade show floor.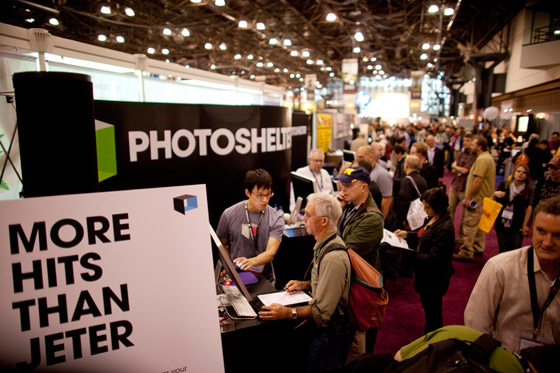 Many shows have online "planners" that you can find out in advance what your favorite vendors are offering as their "show special" and even find other attendees that share your interests. You can use these to figure out your show strategy. If you're taking any seminars or having a portfolio review, be sure and allow yourself enough time to get to all the booths you want to see, plus wander a bit and make some new discoveries.
Vendors give out candy for a reason! Exhausted people crave sugar, but you need sustenance to last all day and into the night. Try to remember to cram a bottle of water and maybe a protein bar or two into your bag. Food and drink at the shows are pricey, so it's good to avoid buying everything once you get there, but also remember to balance out your packed refreshments with all the loot and brochures you'll be picking up. Bags get heavy FAST.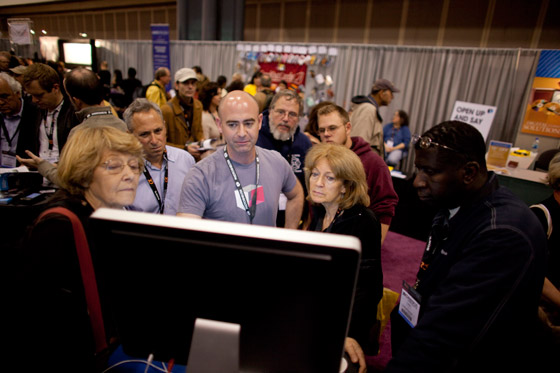 At the booths: Aside from checking out/trying out their gear, if you're a fan of their products, tell them! Always ask about the show special. If you have a blog, ask about getting gear to review. (If this is your plan, have a brief version of your media kit with you. A snappy infographic on a postcard size is manageable and memorable.) Just remember that everyone is giving and getting sales pitches non-stop at these shows, so make yourself stand out when trying to connect with them by being personable and open and BRIEF. As someone who's been to a million trade shows as a vendor, we've heard and seen it all TWICE. Relate a personal story about how their product helped you out of a tight spot, or why you're such a huge fan or mention a name of someone in customer service who went above and beyond, then make your pitch for gear for reviews, etc.. Many vendors throw parties where you can hobnob with company staff and other fans of their products while getting your drink on and scarfing up free food. They'll usually have something in their booth advertising any parties they're involved in, but if you don't see anything, don't be afraid to ask.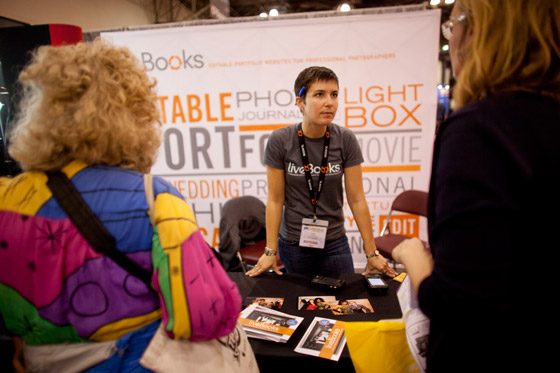 Networking
Networking at a large event like this is a lot like speed dating, you need to make a positive and memorable impression in a short time. You want to stand out, but in a GOOD way. (Don't be that guy.) If you've got an "elevator speech" length spiel about yourself, use it when introducing yourself to other photographers or vendors. Who you are, where your home base is and what sort of photography you do/are interested in is a great start.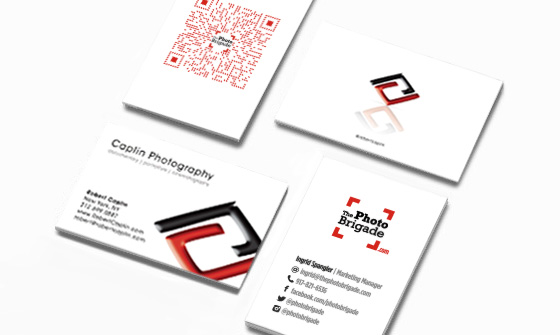 You'll want to arrive at the show armed with a supply of biz cards. As creative types, there are a lot of options for style, size and overall look of the card that are available to us. You want the card to represent you, but not be so arty and unusual that it becomes a "thing" all by itself and no one bothers to visit your website or Facebook page. I love, love LOVE Moo cards, and no I'm not getting paid to say this. They print in full color at no extra charge, use beautiful paper stocks and can print a different image on every card up to 100. My favorite size is the Mini, they are small without being ridiculous and a half size Altoid tin makes the perfect size crush-proof case!
So who's headed to PPE next week? If you see me, be sure and say hello, and let's trade business cards!