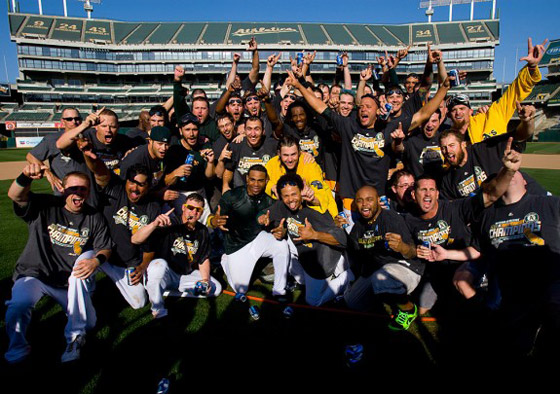 San Francisco Bay Area based sports photographer Brad Mangin shot the Oakland Athletics' celebration after the game against the Texas Rangers.
It sure feels good to be in dry clothes after the dousing I received in the crazy Oakland A's clubhouse yesterday. Unless you have been living under a rock you know that the A's beat the Texas Rangers in game #162 yesterday at the Coliseum to clinch the American League Western Division crown. Picked to come in dead last and lose up to 100 games in the winter, this year's rag-tag bunch of nobodies, cast-offs, and a Cuban defied all logic and fooled all of us who claim to know baseball by winning 94 games. I have been covering big league baseball since 1987, and in my 25 years around the game I have never seen a better story than the 2012 A's.
Continue reading and see more photos on Brad's blog.