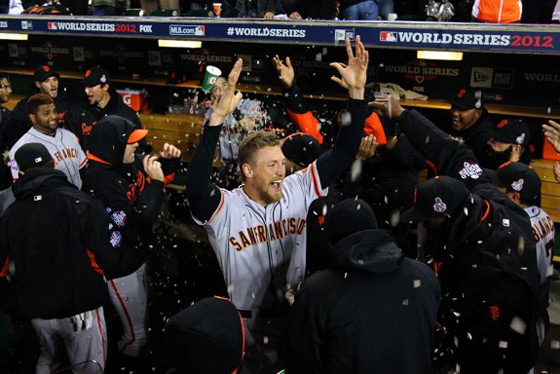 San Francisco Bay Area sports photographer Brad Mangin shares photos of the Game 4 of the World Series.
As I sit here in my Marriott hotel room in Detroit I am still recovering from everything that happened last night. The cold. The rain. And oh yeah- the Giants winning the World Series! This has been such a crazy week I decided to sleep in past noon today and try and kick my cold before flying home on Tuesday. I will now try and put everything from last night into perspective so you can see what my experience was like covering Game 4 of the World Series between the Giants and Tigers for MLB Photos.

The forecast called for cold temps and a possibility of rain when our crew got to the park six hours early for Game 4. One of my goals was to get into the Giants clubhouse to shoot uniforms, bats and balls that would help illustrate our coverage of the Series. My good friend and team photographer Andy Kuno took me in after the team hit the field for batting practice and I was able to shoot some cool stuff and bring the fans some behind the scenes looks at what goes on at a World Series.
Continue reading and see more photos on Brad's blog.