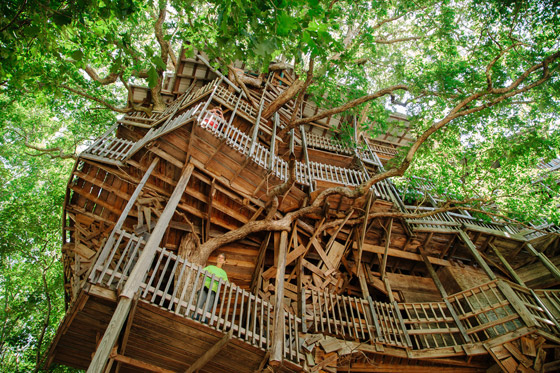 Atlanta-based photographer David Walter Banks shot the world's largest treehouse for Le Monde.
Not long ago, I had the pleasure to receive a call from Le Monde with a curious assignment to photograph the stone mason, preacher and children's author Horace Burgess. Burgess was was struck by divine inspiration in 1993 through a vision from God, which provided him with the mental blueprint to build the world's largest treehouse in Crossville, Tennessee. Nineteen years, 10 floors, approximately 9,000 square feet, countless hours of manual labor, and approximately 258,000 nails later, Burgess' creation is now stands like a giant, looming over the lush treeline. During my visit, I happened upon a church youth group in route on a mission trip, who stopped briefly for worship and song in the wooden clad sanctuary. As he does all, Horace welcomed them with open arms, without asking of them a thing save respect. It was truly a fabled place, manned by a uniquely humble visionary.
See more photos on David's blog.