Born in Philadelphia and raised all over these United States
Alex Federowicz
currently resides in Columbus, Ohio while pursuing graduate studies in photojournalism at Ohio University. Never taking a moment of his time on this planet for granted, he covets his camera as a vehicle to understanding the subtleties and nuances of our human experience. Engaging the world in such an intimate discourse as photography is how Alex wishes to create a visual narrative that challenges our generation's perceptions of ourselves, will hold us responsible for our future and references where we came from to get here. In the meantime, however, he enjoys Irish whiskey, the smell of the ocean, his Kindle and the company of his fiance, Cassie, and their two small cats, Orson and Charlie.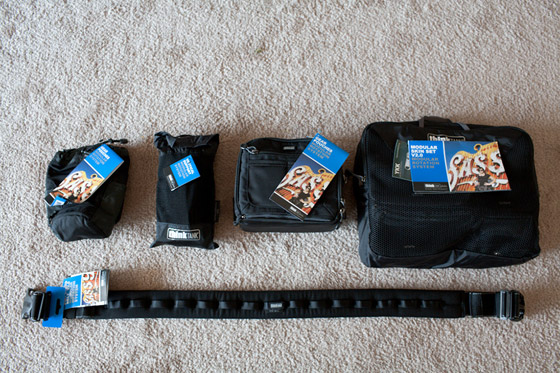 I'm reasonably certain that the first thing any photojournalist learns in their career is really just how heavy a collection of photo things are that aren't that heavy on their own. Moreover, that the longer you're covering an event the heavier said collection of photo things becomes. Eventually experience allows us to be comfortable with carrying less but then, with age, less becomes heavier too. It's a catch 22 that leaves many in a constant and epic search that they hope may end with the discovery of the perfect balance between what to carry and how to carry it. I've got a handful of decent systems I use for long days in the field which are all perfectly practical but none entirely functional. Generally I think it's safe to say we all desire the same things when working: organization, easy access to gear, mobility and comfort. With that in mind I've always wanted to try out a good harness system. Fortunately, the fine folks at Think Tank Photo were kind enough to give me the chance to try out a harness and a few pieces from their Modular Component Systems.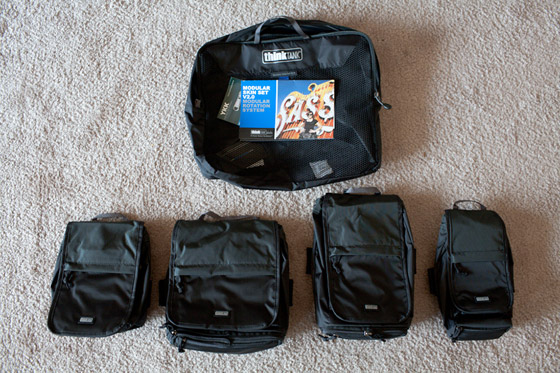 The gear I received was a Pixel Racing Harness V2.0, a Pro Speed Belt V2.0, a Speed Changer V2.0, a R U Hot? water bottle pouch, and a Modular Skin Set V2.0, which includes; a Skin Body Bag, a Skin 75 Pop Down V2.0, a Skin 50 V2.0, and a Skin Strobe V2.0. Given my modest 33 inch waist I was able to fit four of the modular components comfortably on the belt at one time. However, with the selection of pouches I had I was allowed an almost endlessly customizable array of options for any scenario, from just shooting around, to general reporting and multimedia production. The modular components, as well as the belt and harness, are of the same top notch quality photographers have come to expect of any Think Tank product and still thoughtfully designed by pros for pros. The harness itself is ultra light, as is everything else I received, and carefully crafted to hug the torso and distribute weight as evenly as possible. All in all it took me about 10 to 15 frustration-free minutes to get the harness a belt fitted to my frame. Then it was time to start playing with the components.
Each component is designed so that it may be locked into place on the belt or be free to be pushed around by the user for quick adjustments. Either way each of the pouches attaches in seconds and are as secure as ever with wide, wrap around hook and loop fasteners. Pockets abound on each component so there's plenty of places to stash stuff and stay organized. The Skin components have hook and loop closures, that can be silenced with optional flaps if you're in a place where noise isn't welcome, and the Speed Changer features heavy duty zippers. As is familiar with just about everything Think Tank makes, each component includes a rain cover that tucks away in its own dedicated compartment. For test drive purposes I decided to put together a kit of what I might need to cover an event and not really know what to expect. For that matter, carrying as much as possible so I could be ready for whatever might be thrown at me. I ended up packing the Speed Changer, the R U Hot?, the Skin 50 and the Skin Strobe. Here is a list of the absolutely ridiculous amount of stuff I fit into the components and was able to keep organized. With some playing around I'm sure I could fit more in.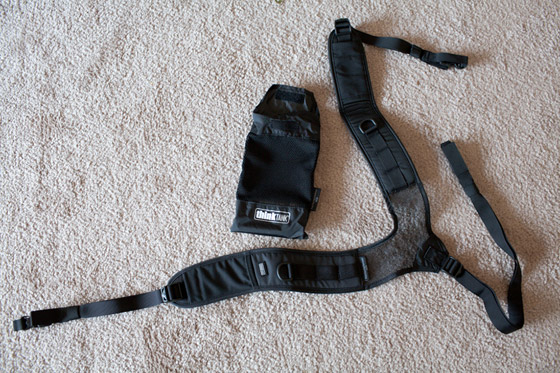 Speed Changer V2.0
– Canon 35mm f/1.4
– Think Tank Pixel Pocket Rocket w/ 10 CF cards
– Pelican SD card case
– About 40 business cards
– 3 extra DSLR batteries
– Package of 10 AA batteries
– 2 ink pens and 1 lens pen
– iPhone
– Car keys, wallet and gum
Skin 50 V2.0
– Canon 24-105mm f/4
– Olympus LS-10 Linear PCM Recorder
– Nikon Coolpix S8000
– Hurricane Dust Blower
– Hand Sanitizer
Skin Strobe V2.0
– Canon 580EX II
– Duracell rechargeable AA batteries and charger
– Card reader

R U Hot?
– 24 oz water bottle
– 2 granola bars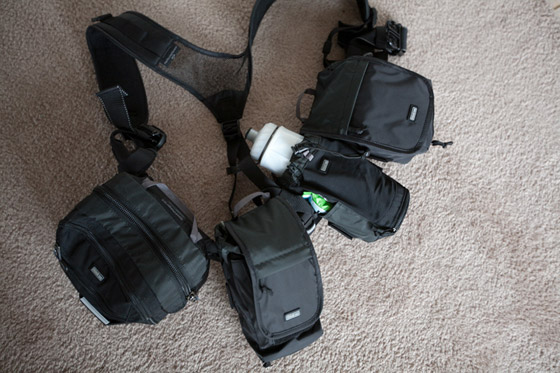 Of course I was carrying my two camera bodies on each shoulder, which actually ended up feeling heavier than the rest of the gear, this really drove home the advantage of the harness's ability to distribute weight. If it weren't for the added bulk around my waist it would've been pretty easy to forget about the amount of gear I was carrying. Even then the components didn't get in the way that much to be noticeable or to limit mobility. I was able to crouch, kneel and run without limitation or worry that things would come undone or gear would spill. Having everything around my waist made things easy to get at quick and left my back uncovered from a heavy bag, which otherwise can limit air circulation and make a hot day hotter. The only thing I found lacking was a spot for a reporter's notebook, a seemingly insignificant detail but would make a great little addition. One of my favorite features on my Wired Up 10, also from Think Tank, is the notebook slot on the back of the bag, it makes the book super fast and easy to get out and put away. Another cool addition would be a way to carry a Netbook somewhere on the harness. While I'm not entirely sure how this would look or work out, it would quite possibly make this a perfect set up for any stringer on the run. Overall, though, those looking to lighten up and get around more easily should definitely consider a modular set up from Think Tank, it could end up being the most versatile camera bag may ever own.