Warren Winter
, aka
The Pixel Pimp
, is a photojournalism industry veteran with 25 years experience. He's been a Director, Managing Director, Editor, and Consultant, to many major photo agencies including his own agency,
PSG
, as well as other famous agencies including Polaris, WpN, ZUMA, Sipa, and WireImage. The photographers and newspapers he's represented have seen their work on covers including Time, Newsweek, People, US Weekly, Paris Match, Stern, and Der Spiegel (to name a few), and been featured in every major publication in the world. The Pixel Pimp is a photo agency-related news and philosophy column written in a blunt, hopefully insightful, always sarcastic manner.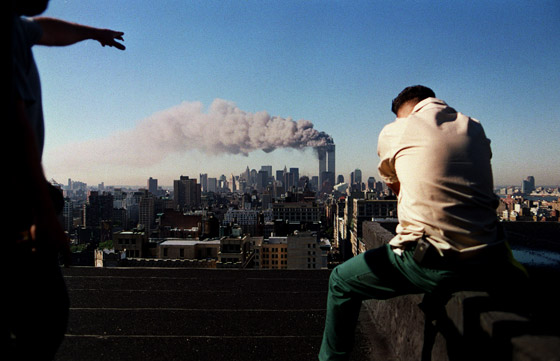 I started that morning frantically running around Chelsea looking for a roof top I could use to shoot some overall shots of the Twin Tower burning.  At this point it was just one tower burning.  I needed to get an overall, get my film to the lab and into the agency so we could scan it and get it out to our head office in France right away.  I was working as an editor not a photographer so that was my focus, get an overall, get into the office, and get it out.
I ran south down 5th Avenue from 34th street and have one extremely vivid memory.  Every single vehicle on 5th Avenue was stopped.  No one was moving.  Everyone was looking south to the burning tower.  As I got close to 23rd Street I noticed the Flatiron Building.  I figured it would be high enough that I could see the towers and also just a block from the office.  So I ran into the building and went up to the guard at the security desk.  I was pleading with the guard to let me go up to their roof.  He kept saying no like a good security guard would when a maintenance guy went darting through the lobby and heard my pleas.  He said "I'm going up their right now, come with me." and with that I dashed over to the elevator and up we went.
By the time we got to the roof of the Flatiron a second plane had hit the towers.  Authorities said the plane flew directly down 5th Avenue before hitting the 2nd tower.  It literally flew directly over my head as I was begging the security guy to let me up on the roof.
First thought was "Oh shit…. someone's attacking tall buildings… and I'm in the shadow of the Empire State Building.  Not good."
Regardless, I put a 300mm on a borrowed Nikon FA (like I said, I was working as an editor… didn't even have my own camera at that particular time) and started making my overalls of the towers burning.  I remember how crystal clear the sky was.  Rare for New York.
The maintenance guys had a battery operated radio with them and we soon got news that the Pentagon had been hit by a jet.  Now all kinds of thoughts are going through my head…. act of war… who's attacking us… what's next?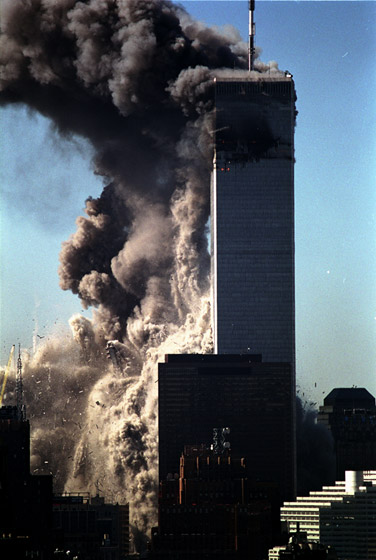 Some time later, I'd just finished loading a fresh roll of film, I heard one of the guys yell that a tower was collapsing.  So I pointed the camera south and held down the motor drive.  I shot through the entire roll as the tower collapsed.  3 frames per second, 36 frames.  I distinctly recall the moment I shot the last frame on the roll and the motor drive went silent.  I could hear the rumbling sound of the debris falling.  It was like a waterfall only with a lower tone.  I could hear and see the debris beginning to fill the the north/south bound streets 20 – 50 stories high… the debris ran through the streets like water through irrigation canals.
I remember the debris stretching from the East River to Hudson River and it being as much as 50 stories high.  I distinctly recall thinking that no one, and I mean no one, could possibly walk out of that debris alive.  10,000 dead?  20,000 dead?  How many people were in or near those buildings?
Then the darkest thought I've ever had in my life washed over me.  Every single person I love in New York is dead.  Everyone.  My then girlfriend, now wife, Cara was down there volunteering for a friend's city council election campaign.  All of my friends were photographers.  They were racing each other to get as close to the towers as possible.  Mr. Capa's famous quote, "If your pictures aren't good enough you're not close enough." took on a much more personal meaning that morning.
Phones worked sporadically at best.  Cell phones barely at all.  My now mother-in-law says she got a call through to me but I don't remember it. It took probably 2 hours before I could get Cara on the phone.  She went straight home.  She thought I would be down at the towers so she was pretty sure I was dead.  That one phone call was amazing.