C.S. Muncy
is a freelance photojournalist based out of New York City with a client list that includes The New York Times, The Wall Street Journal, Newsday, The New York Daily News and The Village Voice. As a freelancer, he's covered such subjects as the BP Oil Spill, the fight for same-sex civil rights, the takeover of the state capitol in Madison, Wisconsin and Occupy Wall Street. A graduate of the Defense Information School, he enlisted in the United States Air Force in 2002 and is currently a photographer with the New York Air National Guard.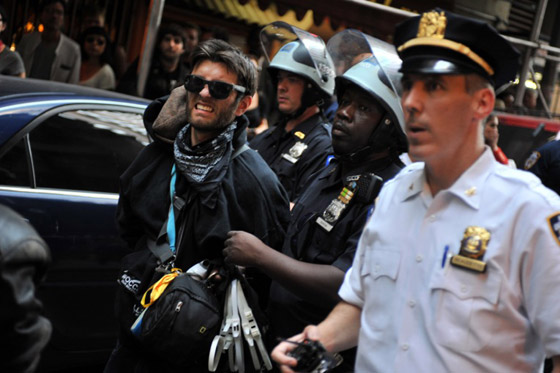 Last weekend I was on assignment covering the one-year anniversary of the Occupy Wall Street movement in New York. I've covered plenty of OWS rallies since day one and they have a fairly consistent tempo; enough so that I feel pretty comfortable knowing when to stick with the crowd and when to bug out. On the last day of the gathering, I was following a wildcat march through the financial district when I was pulled from the crowd, laid out on the ground and nearly arrested. The only thing that saved my hide was my NYPD issued press pass.
The group had been marching for about a half hour or so when we arrived at Nassau and Pine streets. It was an energetic group, but not what I'd call huge. Over the past thirty minutes they had been running through the streets and sidewalks, with NYPD officers on scooters, foot and in squad cars doing their best to keep up. More than once the crowd turned against traffic, causing all sorts of chaos for the scooters who were attempting to keep everyone off the street. By the time the crowd reached Nassau and Pine streets, they'd been split into several groups on each corner, where senior officers were shouting into a microphone. "You are obstructing pedestrian traffic," the officer called out. "Please clear the sidewalk, or you will be arrested. This will be your only warning." I've heard this speech before, and usually the crowd breaks up or the officers allow a few minutes for them to move on, but this time it seemed different. The patrolman in front of me said "I'd get going if I were you, dude." Before I could move more than a step, officers started moving in and pulling people from the crowd. Not really thinking, I lifted my camera to start shooting. That's when one of the senior officers grabbed me, and pulled me off the sidewalk and into the crowd of cops. "That's it," he said. "You're done."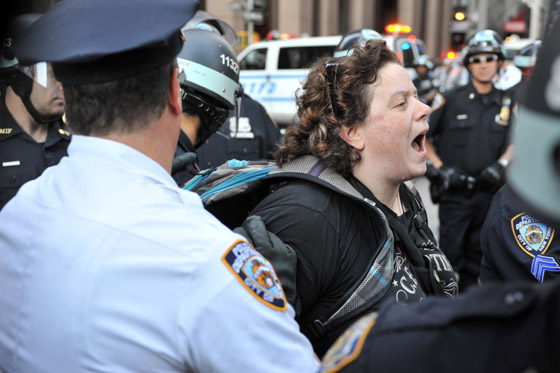 So down they pushed me. I went as gently as possible, not wanting to damage my gear or get hit with a resisting arrest charge. My press pass was attached to my Chest Vest, and was obscured from view. Next to me I saw my buddy, John Knefel also getting arrested. This was his second time while covering OWS. While I've had plenty of close calls, this was my first time actually getting detained.
A friend of mine, Jenna Pope, captured a photo of this. Looking at this shot later, I can see what I couldn't then. Three or four officers are standing over me, with the officer who pulled me from the crowd examining my gear. A few moments pass with my face down in the ground, and then finally the arresting officer leans down and asks "Are you press?" I tell him I am, and I roll on my side to show my press pass. I figured my card was going to get yanked. Another moment passes, and then he tells me to get up. To my shock, I'm not cuffed or put in the van. "Next time an officer tells you to move, you move." He pushes me away from the crowd. "Get out of here."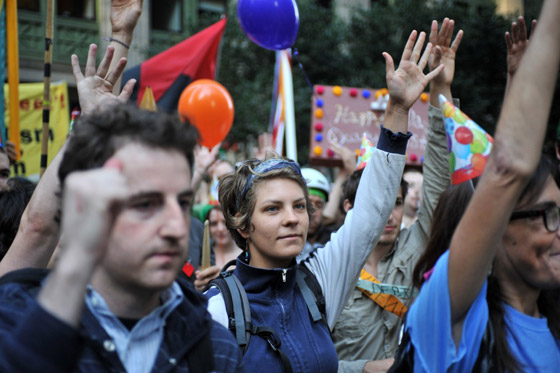 John, unfortunately, didn't have an issued press pass, and ended up detained for a few hours. John's a talented guy; he's smart and savvy and has been covering OWS for as long as I have. I felt terrible getting cut loose when he wasn't.
Six months ago I wrote that press passes made you just as much of a target during protests as they protected you. This was immediately following the clearing of Zuccotti Park, when officers pushed credentialed members of the media several blocks away from the scene. Today, I don't believe that's nearly so much the case. Sure, I still encounter officers who react poorly to the pass, but in this case it worked exactly as it's supposed to. Mickey Osterreicher, general council for NPPA, has been advocating better training within the NYPD when it comes to dealing with the press, and I believe his hard work has slowly been paying off.
Here's the rub, though: there are a lot of great reporters and photographers working in New York who do not possess press passes. They can be difficult to obtain, and simply working for a major paper in no way guarantees that you'll be issued one. Applying for one can also be time consuming (it took Gothamist the better part of a decade to finally get theirs.) Alternatively, there are a lot of people who aren't nearly so talented who carry them. One friend of mine refuses to apply for one, believing that the police should not be in the business of saying who is and isn't a member of the media. In principle, I agree. Practically speaking, I believe it's better to have one and not need it than the other way around.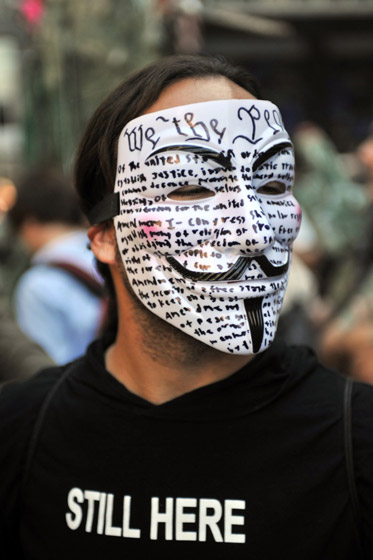 My suggestion for new photojournalists working in the city is to apply for one at the soonest opportunity. They allow you to (sometimes) cross police and fire lines, give you access to press briefings and on rare occasions such as this, gives you a minor layer of protection. Some wear passes issued by their paper or agency (and some even wear home-made passes) but I'd avoid doing this. From experience, I can tell you that in the eyes of the NYPD, unless it's a pass they issued, it's not going to do you any good. I know it's arbitrary and unfair, but so far that's just the way it is. It's difficult acquiring a NYPD issued pass because you have to have a certain number of published photos demonstrating a need to cross police lines, but once you get it you'll be glad you put in the effort.