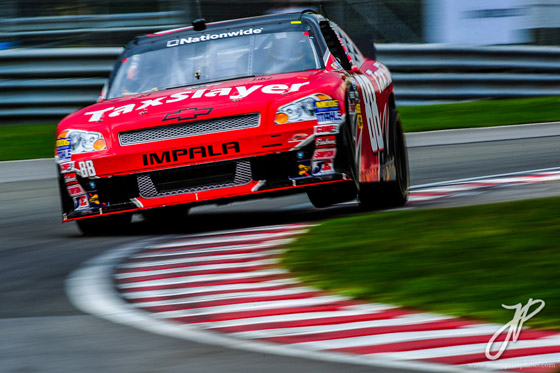 Charlotte, NC-based sports photographer Jamey Price shot a NASCAR race at Circuit Gilles Villeneuve in Montreal, Canada.
Standing on the top of a hill, with a dense forest of green trees and undergrowth in front of you, and the massive expanse of water from the St. Lawrence river behind you, you'd be forgiven to think you were in paradise. But that quiet utopia is interrupted. At first it's a distant rumble. Nothing to take note of. The birds continue chirping, the groundhogs go about their business. But that distant rumble turns to a deafening roar and the ground beneath you begins to shake as NASCAR practice gets underway and these behemoth cars roar past one by one. It's mid August and that means Circuit Gilles Villeneuve comes to life once more with the sound of racing engines.

But instead of the pitchy wail of Formula One that the circuit is known for, the grumbling of V8 NASCAR engines from the Nationwide series and the chorus of noises from the Grand Am sportscars have their day on the island street circuit.
Continue reading and see more photos on Jamey's blog.