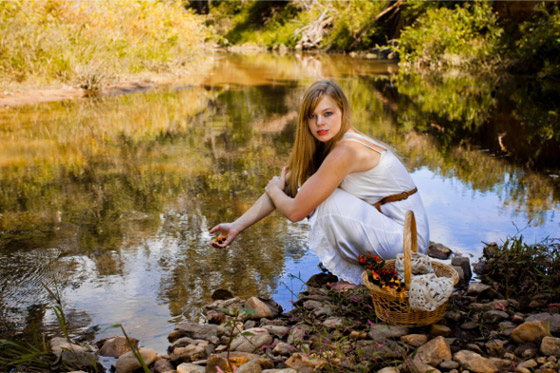 Christiansburg, VA-based photographer Angel Verde shares some photos from a recent personal project.
As a Street Style photographer, the types of shots I set up are very consistent from day to day. Although I do love shooting fashion/beauty portraits, when I get the chance to do some personal work, I almost always avoid making the clothes the focal point and focus on telling a story. For this shoot, we had to change the concept completely the day before due to schedules and ended up on some beautiful private property with fields, a stream, and woods. I don't shoot with speed lights, strobes, or assistants very often, so I had to do everything myself. For every shot, I set up my camera on a tripod with a wireless shutter remote, for light I used a variety of reflects. I basically framed up the shot, set the exposure, aperture, etc., then stood somewhere away from the camera to bounce light into the scene and use the remote to take the picture. In the final shot I brought out a smoke machine to add some fog which really added a lot of emotion I think. The frames I took without the fog just didn't have much life to them. Even though the final shot (model headed into dark foggy forest) was the most dramatic, the shot of her picking flowers under the dying tree was the most ridiculous to pull off. I set of the tripod, remote just like before, set exposure etc, but we were shooting mid day so the light was really harsh. I ended up using a medium sized circular scrim to put my model in shad,e held over my head with my right arm bracing it agents my shoulder and chin, then I reached my left arm out as far as it would go and bounced back some light with a very small reflector to add some clean light to her face. I looked ridiculous but was very happy with the results.
See more of Angel's work on his website.