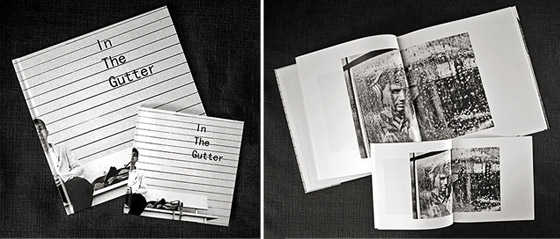 Street photographer David Lykes Keenan, based in Austin and Brooklyn, announces the availability of his first book of photographs entitled "In The Gutter".
In The Gutter is a small, quirky book of black & white photographs that points a sharp stick at one of the cardinal rules of photo books. Published by ZDTravis Books, In The Gutter is 8×8″ square, includes 13 photographs and something resembling a poem describing them, all spanning 32 pages. And we do mean spanning.

The gutter area of a book is generally avoided in photo books but it is used as a creative element in In The Gutter. The photographs assembled for the book exploit this unusual layout.
Learn more about the book on in-the-gutter.info and see more of David's work on his website.