Gerald Holubowicz
has been a photojournalist for nearly 10 years and lived in New York since 2006. He has worked with several agencies: Abaca, Gamma and Polaris. He is now distributed by the German agency LAIF. His work has been published in France and in the U.S in major magazines. Gerald has covered the U.S. presidential campaign that led to the election of Barack Obama, the election night in Harlem and the inauguration of January 20, 2009 in Washington. Gerald is also part of the network "Transmedia Ready," he was involved in the creation of the first Transmedia camp in May 2011, and he is deeply involved in the animation of the Transmedia community on social-networks. In 2011, he hosted, at EMI(school of photojournalism in Paris), the workshop "videography", who led to a documentary "Maux de Presse" co-directed by Jean-Nicholas Guillo and he's currently teaching narrative techniques for the interactive documentary classes.

Like the "digital natives" who were born with digital and social networks,
Jean-Nicholas Guillo
does not limit himself only to photography to express his creativity, he is also a videographer, a director and an editor. Beyond his work published in Telerama, Le Monde and other regional magazines, his POM (Small Multimedia Works, shorts photo-movies) are projected at festivals such as Visa pour l'image, or the festival Circulations and alternative cultural venues in Paris. After completing a major in photojournalism and directed various photo report in France and abroad, he started to work on the multimedia development of his subjects. This position led him to work also as director and editor for other institutions and journalists and broadcast formats for Internet, including still image, video and audio.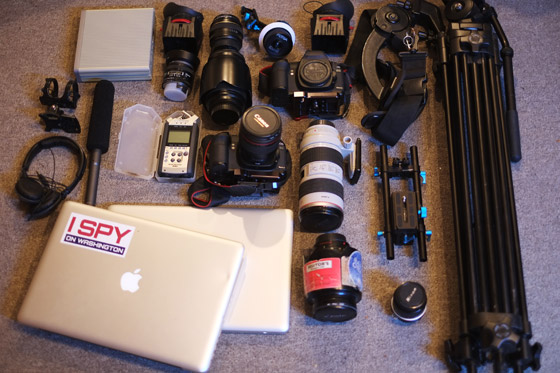 We've just landed in New York to start a month of video shooting for our documentary project "Moneyocracy".
As photographers it was inconceivable not to work with the tools we love the most: our photo equipment. It's a good thing that both of us are working with a Canon 5D mark II, it makes the production more coherent in terms of cinema look and feel.
We're photographers, so even though we're shooting a documentary, it doesn't mean we won't shoot still photography. That's why we didn't use a more traditional video equipment.
In a production like this one we have to travel a lot to meet people we want to interview, to capture the very essence of the Presidential Campaign, and to get some atmosphere shots from the U.S. So we better carry light equipment versatile enough to let us face a wide range of situations without compromising on the quality.
That's why we've managed to use only the strict minimum: three fast zoom (24-70mm and 70-200mm), two old Nikons (a 24mm and a 35mm) a rig and its follow focus along side the traditional pack of video editing computer and storage.
Lighting is obviously very important too and luckily enough we found two light stands, reliable and strong enough to get the job done during the interview sessions.
We discovered in the process that a good viewfinder was critical when you have to shoot video with a DSLR. After a couple of tests, we decided to buy the Zacuto Pro viewfinder, which is a bit expensive but definitely worth it. We also installed the Magic Lantern firmware on our camera which provides a lot of very useful features like the automatic restart (the 12 minutes barrier is finally gone), the focus peak, and the zebras (to detect the over exposed part in the frame).
Apart from the basics (lenses, viewfinder), we both have a different way to use our cameras and to set up our equipment, which at the end of day doesn't reflect in the quality or the look of the video we produce.
Gear list:
– Canon 5D Mark II (2)
– Zacuto Pro3 viewfinder (2)
– Canon 24-70mm 2.8 (2)
– Canon 70-200mm 2.8
– Canon 35mm 1.4
– Nikon 35mm
– Nikon 24mm
– Two variable ND filters mounted on the lenses
– Video tripod
– Fotga DP500 follow focus rig
– Shoulder rig
– Sennheiser shotgun microphone and its mount
– HF lavalier mic
– Zoom H4n handy recorder
– HDD 2TB
– Macbook Pro (2) for video editing
Not pictured:
– Light Stands (2) + umbrella
– Canon 5D
– Fujifilm X-Pro 1

About the project:
Moneyocracy is a transmedia documentary about the 2010 Citizens United v. FEC Supreme U.S Court ruling and the rise of Super PACS during the 2012 U.S Presidential election. The documentary looks at how the decision, championed by Supreme Court Justice John G Roberts, is affecting the U.S democratic process. It also looks at the place of money in politics, the rise of Super PACs and their affiliated organisations the 501c4, and documents how these organizations influence the political debate and American voters during the 2012 presidential campaign and beyond through political advertising.. Moneyocracy aims to offer a nonpartisan view on the current state of the U.S democracy.
What are the legal & political implications of this decision? Is this the beginning of a new era in which corporations will shape the political arena as they shape their businesses? Moneyocracy relies on an interactive documentary (i-doc), a documentary and a comic book, each of which explore a specific issue, allowing the viewers to discover the real influence of corporate money in contemporary elections.
You can have a look at our teaser on moneyocracy-project.com and connect on Tumblr, Facebook or Twitter.