Keith Bedford
is a freelance photojournalist based in New York City. A native of Baltimore, MD, who as a regular contributor to Reuters and the New York Times has been published in Time, Newsweek, MSNBC, Stern and Paris Match among others. He spent nearly two years following the campaign of Barack Obama in the 2008 U.S. Presidential election and co-founded The Stumping Grounds, a photo blog dedicated to documenting that election. After which he spent two years covering India and South East Asia, and another year and a half covering China. Having returned to New York, he is now facing the challenge of talking about himself in the third person and covering a place called home.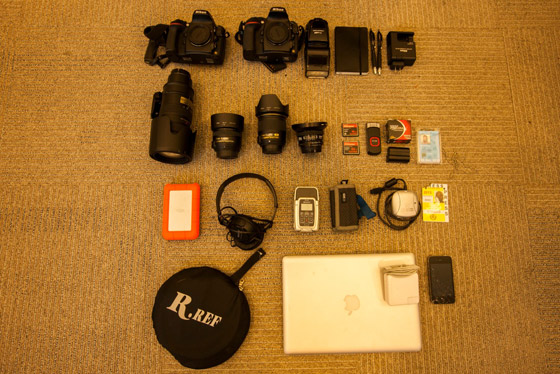 I try to travel a light as I can. When I am in New York I use the subway to get everywhere. When I first started working in New York a few moons ago I had a car. I dumped the car when I moved abroad and a ton of the stuff I carried with it. I generally carry all of my stuff in the National Geographic NG A5250 Africa Series Small Rucksack/Shoulder Bag. It's small, lightweight, durable, and fits all of my stuff. While my bag may not be as light as I would like it to be, I think I have a system that works for me. With the exception of the Nikon 70-200 2.8 I've been shooting mostly prime lenses for the last few years. I am a big fan of Nikon's primes since they are light weight, sharp, and pretty inexpensive. Pound for pound I think they smoke the competition. That's just my opinion mind you. I use a 50 1.4G, a 28 1.8, and a 20 2.8. It sounds pretty sparse but I get the job done with what I have and feel comfortable with this system.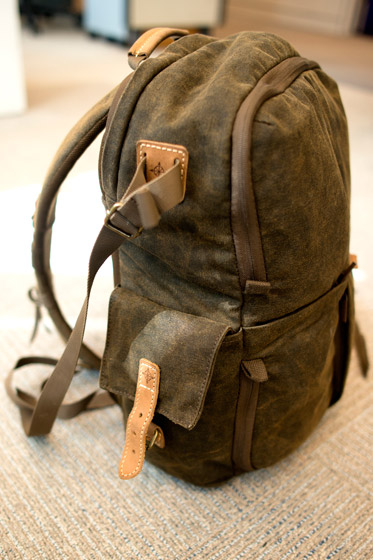 I put all of those lenses to work on a pair of Nikon D800's. This may be the best DSLR I have ever used. It's got great image quality for stills and video. I also have a Nikon D3 which sadly due to a back order of parts is out for repair. That camera is a work horse that after living with me for 4 and half years is just now needing it's first repair.
Lately I've been working on recording video as well as sound. I'm just starting out with it but it's been fun and educational, but it meant adding few pieces of gear to my kit. For sound I use a Zoom H2 with a pair of Sony MDR-7506 headphones.
All of my images and videos get worked up in my MacBook Pro 13″ with a 500 GB hard drive that now seems too small. The rams been maxed out though so it runs pretty fast. Not solid state drive fast but I've never missed a deadline with it. I am using the Adobe Suite of Photoshop and Premier CS6. I back up my assignments throughout the day with a Lacie 1TB rugged portable drive.
Lastly, I carry a bunch of miscellaneous stuff that makes my job pretty easy. I carry an iPhone 4S with Instagram and Retro Camera and, most importantly for a junkie like me, the Starbucks Coffee App. I pack extra batteries(both for the cameras and AA), a Nikon SB-800 flash(While awesome, D800 charger. I lmost never use it), a cheapie Silver/Gold reflector I picked up in Beijing that I use for portraits, UN and NYPD press credential, a Verizon USB modem, a Delkin Devices firewire 800 CF card reader, a Think Tank Pixel Pocket Rocket with 160GB memory cards, Uni-ball pens, and a Moleskine notebook to write down all of my brilliant ideas.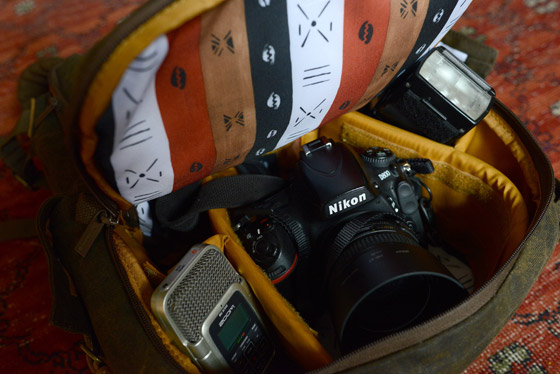 Gear list:
- 2 Nikon D800's
- Nikon D3(Out for repair)
- Nikon 70-200mm II f/2.8
- Nikon 28mm f/1.8
- Nikon 50mm f/1.4
- Nikon 20mm f/2.8
- Nikon SB800 Speedlight
- iPhone 4s
- Think Tank Pixel Pocket Rocket
- Apple Macbook Pro 13″
- Lacie Rugged 1TB portable hard drive
- Zoom H2 Recorder
- Sony MDR-7506 Headphones
- Delkin Devices Firewire 800 CF Card Reader
- Off Brand Silver/Gold Reflector
- NYPD and UN Press Credentials
- Moleskine Notebook
- Verizon USB Modem
- Sandisk Extreme 32GB and 16GB CF cards
We appreciate your continued support! If you plan to purchase any of the items mentioned above, please use the links in the post to help support Photo Brigade.