After a busier than expected summer I recently got around to a much-overdue gear inventory to get my scattered gear back into its right place. I also wanted to do a bit of a reorganization to bring my strategy into better alignment with the way I actually work for my various clients. After a couple weeks, I noticed that there had been a vague anxiety before each shoot that was the result of bad organization, which was resolved with a better plan. All in all I find that this modular approach is a practical way to travel as lightly as possible, while being as prepared as possible.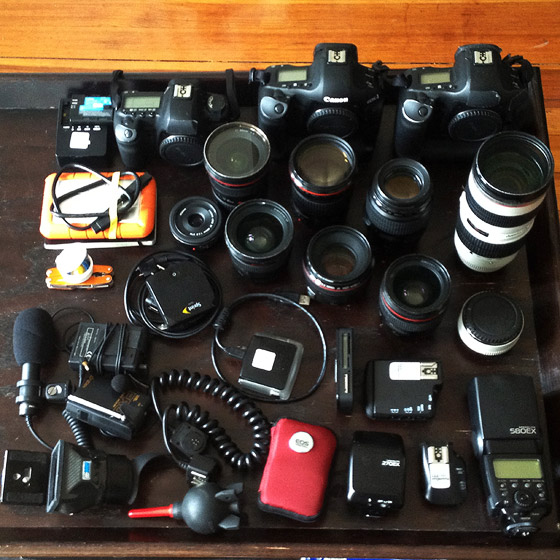 So here's the plan:
– The Bodies: My primary cameras are the 5D2 and the 1D4. I prefer to work with a 35 or 24 on the full frame, and the 50 on the crop body. The 1D almost never goes into a bag.
– The Backpack: This is my mobile office. I had been using a larger Timbuktu backpack that I tended to overfill, making it too heavy and cluttered. The smaller pack from REI was a much leaner fit for my laptop, chargers, card readers, LaCie, hotspot, cables, business cards, notebooks, Cliff Bars, gaff tape, and the 5D with the pancake lens. This bag stays with me at all times.
– The Bag of Light: After the backpack, this was the second stress-reducer for me. I get some pretty short-notice requests for portraits, so having a grab and go collection in the Domke is quite nice. In there I keep both strobes, the PocketWizard, and the TTL extension cord for backup, as well as batteries and either the 35 or the pancake – whichever is not attached to the 5D2 at the moment.
– The Small Stand Bag: The smaller Tenba bag has a 10′ light stand, umbrella and speed ring for the softbox, and a little flash handle. The softbox has its own little pouch and I keep the reflector in there.
– The Pelican: The rest of my lenses, the 1D3, and my multimedia stuff all go into the Pelican case, which is locked and tethered into the trunk of my car. Also in the case are some Think Tank lens pouches and a belt so I can grab what I need for each shoot.
– The Large Stand Bag: This stays in my trunk as well, holding my Monopod, Tripod and another Light stand.
Gear List:
– Canon 5D Mark II
– Canon 1D Mark IV
– Canon 1D Mark III
– Canon 17-40mm f/4
– Canon 24mm f/1.4
– Canon 35mm f/1.4
– Canon 40mm f/2.8 pancake
– Canon 50mm f/1.2
– Canon 70-200mm f/2.8
– Canon 100mm f/2.8 Macro
– Canon 135mm f/2.0
– Canon 1.4x extender
– Canon 270EX
– Canon 580EX
– PocketWizard FlexTTL set
– TTL extension cord
– Calumet Umbrella
– Calumet SpeedBox softbox
– Flexfill reflector
– 2 Light stands
– Manfrotto Monopod
– Manfrotto Tripod
– Letus Hawk LCD loupe
– Wireless Lavalier
– Stereo hotshoe mic
– MacBook Pro 13in
– Sierra Wireless 4G Mobile Hotspot
– LaCie Rugged 500Gb HD
– 8Gb CF and SD cards
– Business Cards
– Lens Wipes
– Leatherman multitool
– REI Quantum Messenger Backpack
– Domke F6 camera bag
– Think Tank Large Lens Drop In
– Think Tank Small Lens Drop In
– Pelican 1550 Case
– Tenba stand cases