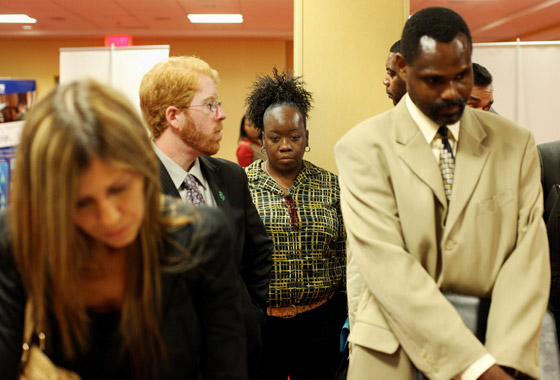 NYC-based freelancer Andy Jacobsohn recently photographed a job fair in Iselin, New Jersey.
The unemployed or those unhappy with their current job status queued up to almost 200 job seekers in either direction as they waited to enter a 3-hour job fair. A Renaissance hotel in Iselin, New Jersey, could be the launching point to a new career for one of those waiting to enter the banquet hall. Scattered throughout the corridor was a miscellany of employers from New Jersey Transit and Prudential to financial institutions and technological and vocationally schools. Schools like the Stenotech Career Institute that boasts a 0% employment rate in the field of stenography – but before the students make the potential 6-figure salary they have to spend cash they don't have on a 3-year education. The recruitment associate from the school wasn't hesitate to say that she will likely not have a new student come out of this job fair, or fairs like it. The would-be students need income now.
Continue reading and see more photos on Andy's blog.