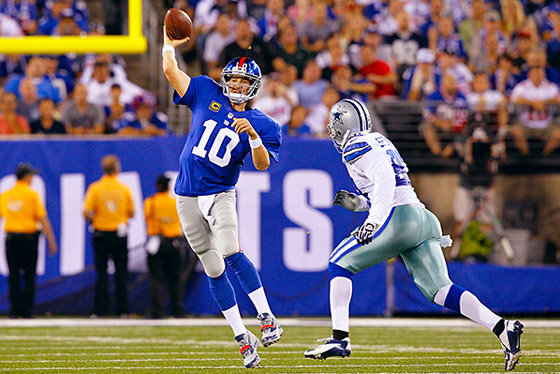 LA-based freelancer Ric Tapia shot the kickoff game between the Dallas Cowboys and New York Giants for NFL.com.
In New York … Err New Jersey. I flew out from LA to the Big Apple on my way to photograph the Kickoff Game between the Dallas Cowboys and New York Giants at MetLife stadium for NFL.com. I flew in early to see the sites from the Statue of Liberty to the Empire State building and of course Apple Store. Next it was on the New Jersey Transit from Penn Station to the stadium. It was easy to find my way, all I had to do was follow all of the Giants fans. Once at the stadium got my credentials and went into the photographer workroom. Most of the seats are pre-assigned but I was able to grab a nice desk for editing.

Working for NFL.com its all about speed and quality which is difficult since I was a one man team going up against the other agencies like AP Images, Getty Images and US Presswire who each brought several people and they even had editors and runners on site. It was important to understand what shots are important enough to leave the game and transmit and which shot you should wait on. One shot that was expressed to me of great importance was the opening kickoff. As soon as they the Dallas Cowboys kicked the ball off I run in to transmit. The first half wasn't that exciting nor was there a lot of scoring: 7-3 Cowboys.

The second half was much better for everyone with much more scoring and action. I was pleased with my take and hope to visit MetLife stadium again. Until then Enjoy!
See more photos on Ric's website.