Having recently finished coursework toward a Master's of Arts in Visual Communication, concentrating in photojournalism and multi-media production, at Ohio University's School of Visual Communication,
Samantha Alyn Goresh
currently interns at the Concord Monitor in Concord, New Hampshire. Believing in the power of the image and the necessity for visual storytelling, Samantha also holds a B.A. in Visual Arts from Eckerd College (2003) and an A.S. in Digital Photography from the International Academy of Design and Technology (2009). Goresh has studied in Europe, Asia and the United Kingdom, and has participated in volunteer projects in the United States, India and Turkey. In the meantime, Samantha remains an avid runner and ultimate frisbee player, she loves traveling, live music and thrives on reading or listening to the news on a daily basis.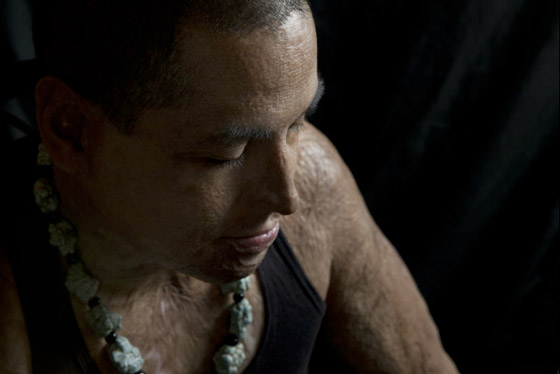 Photographer Samantha Goresh has always had a personal curiosity about issues that affect our society both locally and globally. A graduate student in Ohio University's School of Visual Communication, her final quarter of course work ended in a capstone experience that allowed her to investigate the matters surrounding medical marijuana. The course titled 'Advanced Photo Reportage II', but simply known as 'Magazine' by students and faculty, is taught by program director Terry Eiler.  Students individually act as photographer, writer, designer and managing editor of an editorial board consisting of the class on a story of their choosing. The final product is a complete article and magazine layout. Samantha chose to pursue a story on medical marijuana after hearing supreme court testimonies from patients who used it to provide relief from chronic or terminal diseases and the side effects of the drugs used to treat them. "I had thought for years [medical marijuana] was a joke…then [after hearing the testimony] I thought maybe I should learn more about this." Goresh recalled when asked what inspired her to pursue the topic.
Goresh would go on to mention, in her Editor's Letter that opens her spread, that she felt bad for judging and jumping to conclusions about the treatment. After meeting people that really were in pain and for whom substances like Vicodin and Oxycontin, while legal, were not viable alternatives in light of their side effects or addictive nature, inspired Samantha to dig deeper than what was offered by cable news pundits. Further, for some; such as Rudy Reyes, burn survivor and the main figure in Samantha's piece, such pain killers are insufficient to manage the pain of such severe nerve damage at non-lethal dosages. Goresh is still careful to balance points of view throughout her article, including insight from doctors as well as the DEA and those who have abused or exploited medical marijuana.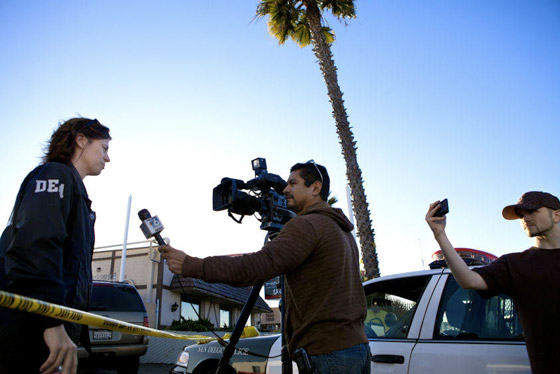 While Goresh's Magazine class provided her with the freedom and opportunity to pursue learning about the issue, the story itself almost didn't happen. "Access was an issue" Samantha recalled as she explained how she began emailing around looking for leads, "I found people who were happy to talk but were uncomfortable with the notion of being photographed." While marijuana for medical use has been decriminalized by the state of California it still remains illegal on the federal level and several recent busts by the DEA left many weary to open up to a photographer. However, sticking with a steady campaign of phone calls and emails lead Samantha to enough people to be able to put a complete story together. Facebook was also a resource for Goresh, helping her establish her contact with Rudy Reyes as well as becoming aware of a DEA bust to photograph via an activist group page. Persistence and patience were again the key when it came to getting pictures of plants. She finally found a grower willing to let her take photos, although she had to remain blindfolded en route to his plants.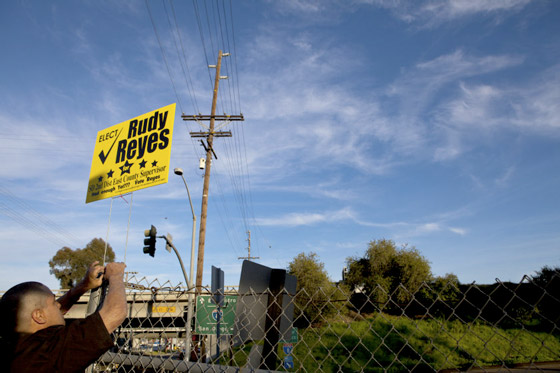 Now finished with course work at Ohio University, Goresh has just begun an internship with the Concord Monitor. Still finding her way in the industry, I asked Samantha about what her dream career might look like. "I'm still trying to figure that out" she responded, "right now I'm just trying to improve, taking advantage of any opportunity for mentorship I can." Even with an undergrad background in visual arts Goresh put down her camera shortly after college after feeling like she had been hiding behind it. The desire to get into the world, interact with it and experience life more later mingled with her rediscovery of photography as a means to balance the two through photojournalism. Samantha credits her peers and classmates from OU as being a huge inspiration and help to her along the way. "They really helped me to be able to talk about and understand photos…they made me think more while shooting." That awareness while shooting and the photographer's ability to be conscious of creating a story telling frame is one of the things Goresh believes makes good photo. That and "Human moments that stand out" she added, "pictures where I can relate to the subject."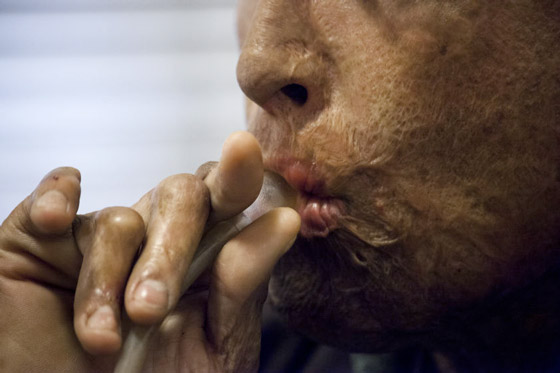 Samantha describes her career as in a place of transition. "Personally I'm terrified of what's next after the Monitor," she mentioned when asked how she feels about the future of the photo industry, "I know there's work out there and I know I can do jobs [but] success seems so elusive at the moment." Still, Goresh, while personally terrified, remains optimistic about the industry in general. In any case "without a stable place to sit [in the industry] it makes things exciting" she added. For now, though, Samantha is happy to continue being able to satisfy her interest in stories and work to put faces behind statistics while still learning what makes pictures great.
To see and read Samantha's entire piece on medical marijuana please visit: http://issuu.com/samanthaalyngoresh/docs/insight.medmj

About the writer:
Born in Philadelphia and raised all over these United States Alex Federowicz currently resides in Columbus, Ohio while pursuing graduate studies in photojournalism at Ohio University. Never taking a moment of his time on this planet for granted, he covets his camera as a vehicle to understanding the subtleties and nuances of our human experience. Engaging the world in such an intimate discourse as photography is how Alex wishes to create a visual narrative that challenges our generation's perceptions of ourselves, will hold us responsible for our future and references where we came from to get here. In the meantime, however, he enjoys Irish whiskey, the smell of the ocean, his Kindle and the company of his fiance, Cassie, and their two small cats, Orson and Charlie.