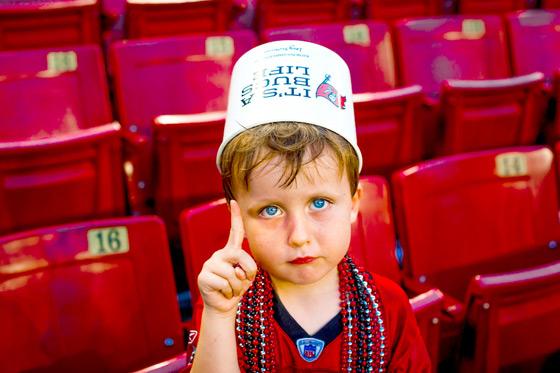 Sarasota, FL-based photographer Chip Litherland documented Tampa Bay Buccaneers fans during a game with the Carolina Panthers.
I was sent into the stands for yesterday's Tampa Bay Buccaneers and Carolina Panthers game at Raymond James Stadium in Tampa with only one real mission – stay off the field and document a Bucs fan's life.

I spent all four quarters wandering the cement staircases and dark runnels of the stadium just documenting fans, which a great break from trudging up and down the sidelines dodging sound guys and referee butt. The fans were in a great mood luckily since we (I use "we" because I was shooting for the Tampa Bay Buccaneers team) dominated the Panthers, which was great to see after a less than stellar last-season. For some reason, I feel like this is the beginning of a great year.
Continue reading and see more photos on Chip's blog.