Mark Hirsch is an editorial and corporate photographer located in the unlikely place of Dubuque, Iowa. Hirsch spent 20 years in the newspaper industry as a photojournalist, photo editor and finally visuals editor before embarking on a freelance career in 2006. His clients include Getty Images, The New York Times, Monsanto Regional Brands and John Deere Corporation along with many regional customers.
It's 4:30 a.m. and I'm hiding in a cornfield hoping to shoot a white tail deer grazing beneath a lonely old Bur Oak tree.  Poised in the grips of my magic arm rests my iPhone.  Why?  Today was Day 120 of my yearlong commitment to create an iPhone photo per day featuring the aforementioned lonely old Bur Oak, "That Tree", growing in the middle of southwestern Wisconsin cornfield.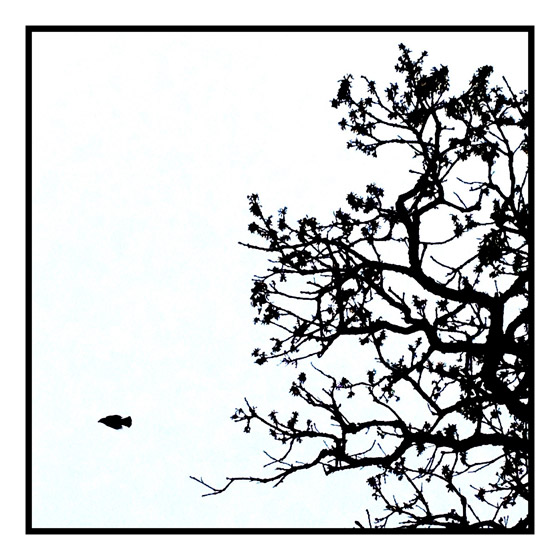 I have three friends to blame or thank for somehow inspiring or goading me into this uniquely challenging project.  In January, I purchased my first iPhone. When friend and fellow photographer Cori Peplnjak learned of my purchase, she asked me how I liked the camera.  My reaction was something like, "really!"?  But based on her endorsement of its convenience and image quality, I decided to put it through its paces by trying to shoot and post an iPhone photo a day on Instagram.
Next, Greg Guenther, an old mountain biking buddy saw the second of two photos I posted featuring the old oak tree, he sent me a note suggesting that I start posting a photo a day featuring "that tree".  Thus That Tree was born.  Since March 14, 2012, I have posted a photo a day at https://www.facebook.com/photosofthattree.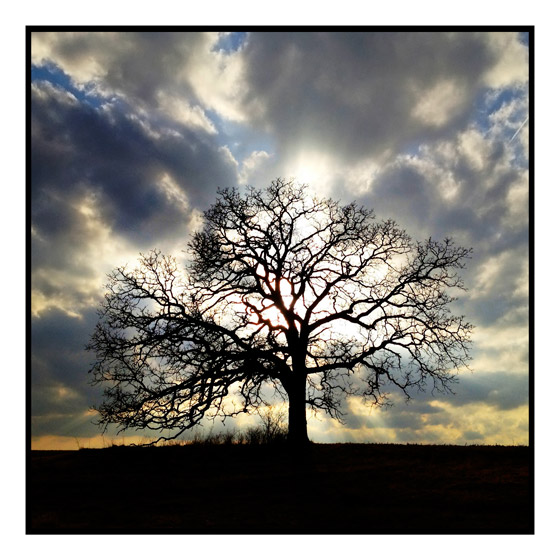 Then, adding to my motivations for this project, my friend and brother-from-another-mother Warren Winter complimented the images I had been generating and encouraged me to go the distance for a full year.  He felt that a year-in-the-life of That Tree had potential value as a self-published book.
It didn't take long before it was clear this project had two core challenges.  1- The technical limitations and advantages of using the iPhone for a project such as this.  2- The creative challenge of finding new angles and telling new stories about That Tree day in and day out for a solid year.
All of the images are shot, edited and uploaded directly from my iPhone.  For in camera image editing, I use Camera+, Snapseed and Photo Fx.
Along the way I've been trying to find ways to overcome the technical limitations of the iPhone camera.  With its fixed f/2.4 lens and max shutter speed of 1/15 of a second at 800 ISO, low light images can be a real challenge.
In my effort to overcome this limitation, I found two Apps that allow for longer exposures, NightCap and 645 Pro.  I prefer NightCap because it is a simple, functional, and intuitive App. With NightCap, I choose a focus point, exposure point and white balance with simple taps on the screen. 645 Pro offers more bells and whistles but it is also more complicated and tries to emulate a real camera, which defeats my point of using the iPhone.  With very small type and dials, the 645 Pro controls are also hard to see and read.
I can only shoot so many dramatic sky shots with the tree falling into silhouette before both my viewers and I get bored senseless. I decided to try to mix things up by enhancing a dusk photo with artificial light. I mounted two RadioPopper equipped Canon 580 EXII flash units onto light stands and mounted the flash trigger on my Canon 7D with it's 50mm lens set to f2.0.  Then I mounted my iPhone in a magic arm gripped to a tripod and used the Nightcap App to set a manual exposure of 1 second.  I expected with a shutter speed of 1 second that it would be easy to trigger the remotes while the shutter was open.  I soon discovered that the shutter mechanism with the NightCap App on the iPhone doesn't function like a tradition shutter.  Out of 25 shots I only managed to get one frame where the flash illuminated That Tree in synch with my iPhone.  I have not had time to revisit and improve upon this technique yet but with seven months to go for my project, I know I will be working on this again soon!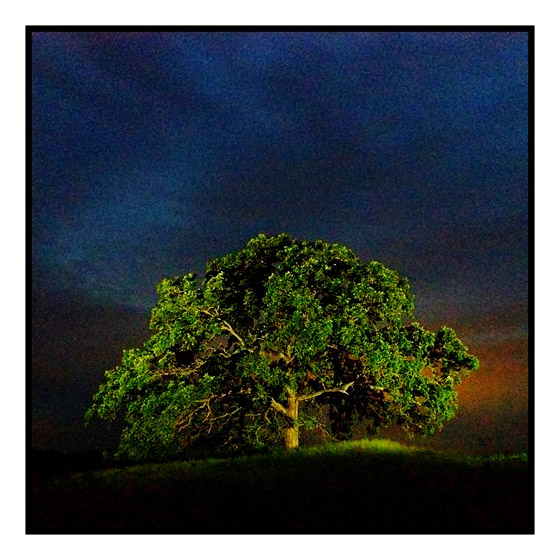 During dusk one evening the lightning bugs were coming out and I wanted to capture their sporadic bursts of light.  I utilized another app, SlowShutter, which essentially stacks video frames into a single image.  The resulting image doesn't have the sharp resolution of a still frame but I think it produces an interesting effect regardless.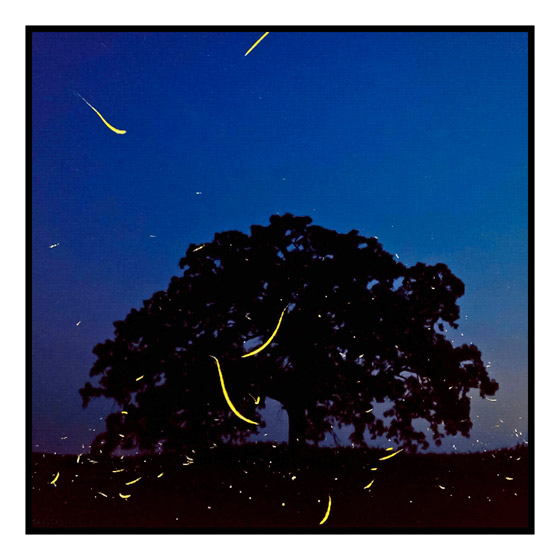 There are a range of apps I've turned to for help with focusing ability, exposure control, macro focus, or the ability to lock exposure.  Among those I've turned too most frequently are Camera+, ProCamera, and occasionally, in just the right light, Pro HDR.
These technical limitations have forced me to look at my subject matter in ways that I don't normally approach with my shooting style. Of late, I've shot several somewhat macro views with bugs and other details.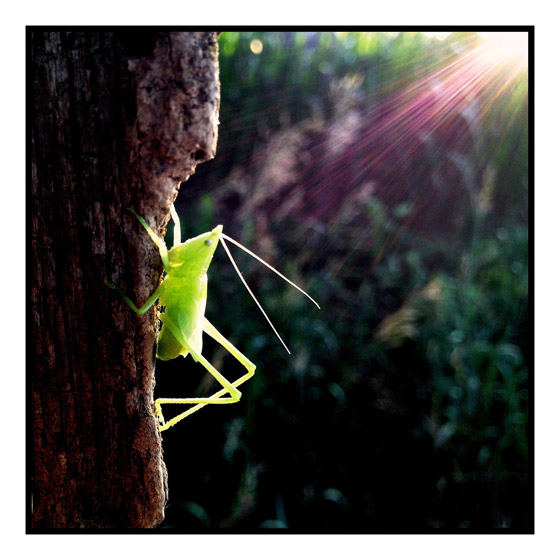 That Tree doesn't do much.  That Tree isn't involved in a scandalous divorce from a Hollywood celebrity.  That Tree is not running for president.  And That Tree isn't embedded in a combat zone.  So what's the story here?  Light, life, metaphor, metamorphosis, change, and challenge.  The story applies as much to me as a photographer as it does to That Tree as my subject.
On the 3rd of July, Casey Madison, a photographer I follow on Instagram posted a note to me that he couldn't wait to see what I came up with for the 4th July. My mental reaction was how am I going to deliver on that challenge. I was up before sunrise wondering how I might shoot my tree photo with a patriotic holiday theme. As I was driving the 2 miles to the tree, I noticed my neighbor had some 6" by 8" flags on their mailbox. I backed up and borrowed one to take with me. When I got to the tree, the sun was just cresting the horizon casting it into silhouette. I held up the flag and wondered if I could shoot through it like a filter. With some patient maneuvering and a vantage point enhanced by a stepladder, I managed to shoot through the flag and make an image that I think met Casey's creative challenge.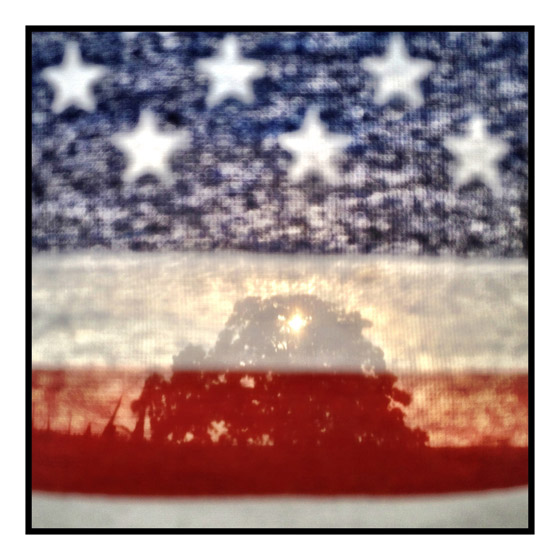 When this mornings attempt to capture deer beneath the tree failed, I turned to a still life of debris illuminated by the softly sweeping morning light. Every day is a different challenge and despite any preconceived notions of what I hope to shoot, I try to keep an open mind and take some creative chances.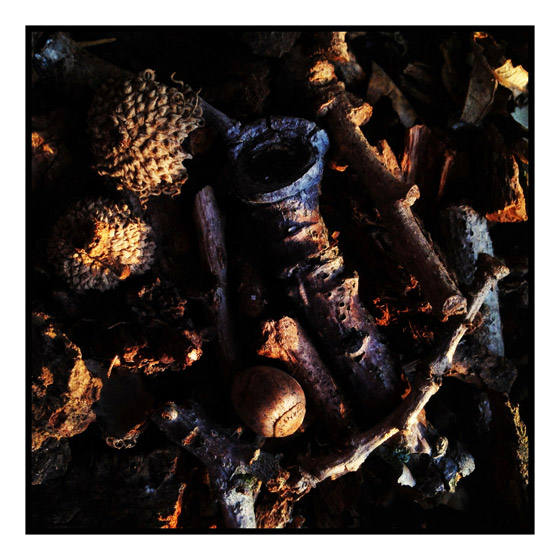 Clif Page, another photographer I follow on instagram posted a note to me a while ago. In it he said, " I do love the photographs of the tree, and I admire your ability to make them all beautiful and different. The soul of a tree is as unique as a person if you look hard enough as you are discovering everyday." And Clif's closing advice " when the scenery never changes, wait for the light"