C.S. Muncy
is a freelance photojournalist based out of New York City with a client list that includes The New York Times, The Wall Street Journal, Newsday, The New York Daily News and The Village Voice. As a freelancer, he's covered such subjects as the BP Oil Spill, the fight for same-sex civil rights, the takeover of the state capitol in Madison, Wisconsin and Occupy Wall Street. A graduate of the Defense Information School, he enlisted in the United States Air Force in 2002 and is currently a photographer with the New York Air National Guard.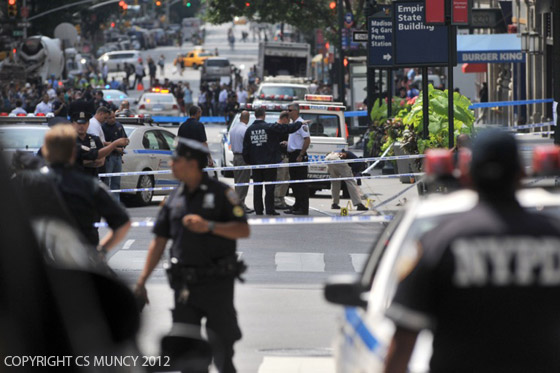 I was picking up some breakfast at Russ and Daughters when my phone chimed with a news alert on the shooting at the Empire State Building. "Manhattan: 5Ave & East 34 St Empire State Bldg 5 people shot. Perp shot by NYPD is DOA on scene, EMS requested on rush." I get alerts all the time on shootings, but it's pretty rare for five people to get shot at once, and I knew that with the crime taking place in front of a New York icon, it was going to be a relatively big story. I knew that in cases of mass shootings like this, the number of victims would likely go up. I dropped everything and booked it back to my apartment to grab my press pass and gear and start calling editors.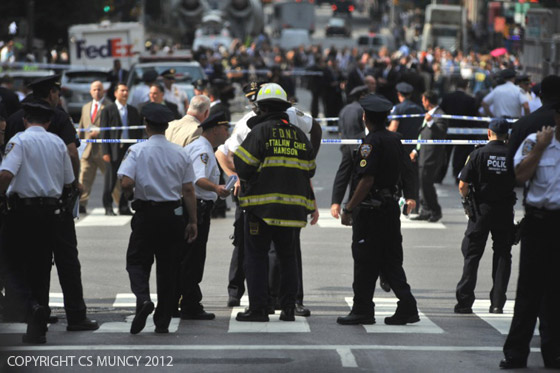 By the time I arrived at the scene police tape had already been set up and the injured had been removed, but it was still a madhouse. Multiple police agencies continued to arrive, including agents from the ATF and FBI (though I was later told by an NYPD officer that they weren't there in any official function, rather they just arrived to see if they could offer any support.) DCPI, the NYPD office in charge of helping the press, was letting credentialed media through the police tape but had us corralled off to the side. It wouldn't have been a bad location, but with so many officers in the street, it was difficult getting a clear picture of what was going on.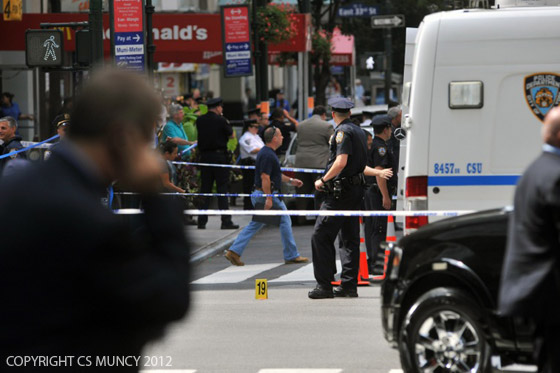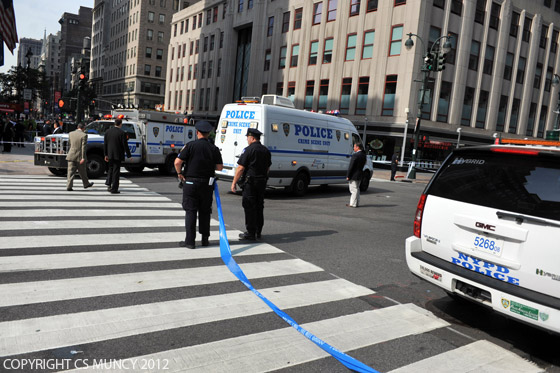 There's an etiquette that's (mostly) observed between members of the media when there's a lot of us around, and god help any who ignore it. Photographers and videographers who were first on scene had the best angle, while those who arrive later have to maneuver for a good position. If you're arriving late, do your best to be polite and try to work with those around you. More often than not, people will work with you to find you a good spot. Journalists who tried pushing through or hogging a spot were quickly shown the error of their ways. The smart guys will bring folding step stools so they can shoot over the heads of those in front of them.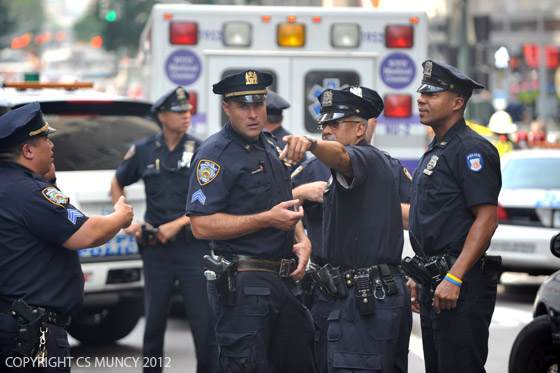 Around 11:00am, Mayor Bloomberg, NYPD Commissioner Kelly and NYC Councilwoman Christine Quinn came out and briefed the press. Once that was done, it was a race to file the images.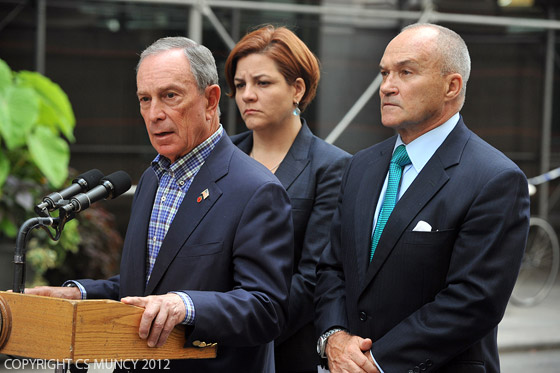 Shooting a crime scene can be extremely difficult; and these difficulties are compounded when you factor in so many other members of the press who are working the same scene. Depending on the location of the body, police will usually tape off multiple blocks, so it's up to the photographer to decide where they're most likely to get the best photos. If you have to move, you'll find yourself racing the long way around multiple blocks to get to a spot that was really no more than fifty feet away from where you started. In addition, you have to negotiate with uniformed officers for access. Thankfully, DCPI was on the ball today and went out of their way to help everyone out.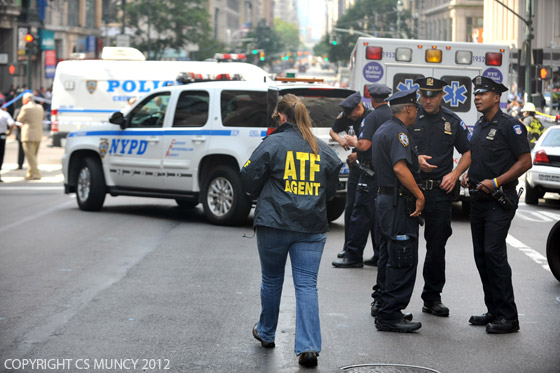 One last word of advice to anyone working these kind of scenes. Drink lots of water. You're going to spend hours standing in the same spot, and in the summer heat it's very easy to dehydrate. By the end of the day, I was cramping badly.