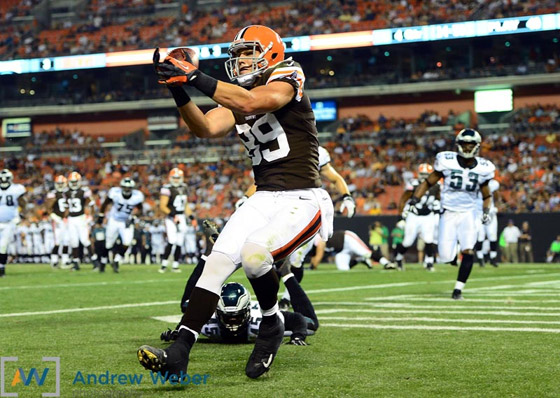 Toledo, OH-based sports photographer Andrew Weber shot his first NFL pre-season game of the year.
Football season is finally back! Well, it's been back for a while but since I was in London I missed three NFL preseason games. My goal this season is shoot 50 games between NFL and College. People think I am crazy but football has been in my life since I was born and I enjoy every minute of it!

My first NFL game of the season was a preseason game between the Philadelphia Eagles at Cleveland Browns. The game started at 7:30pm, and I arrived in Cleveland around 4:00pm to meet up with another photographer before heading down to the stadium.

Once at the stadium I sought out my old teammate Adonis Thomas who I played with at Toledo. After chatting with him I saw the video coordinator Drew Boatner who is also from Toledo. It's amazing how many people I now know in the NFL who are from Toledo. I am very thankful for the four years I spent at Toledo and all of the connections I have made that will be with me for the rest of my life!
Continue reading and see more photos on Andrew's blog.