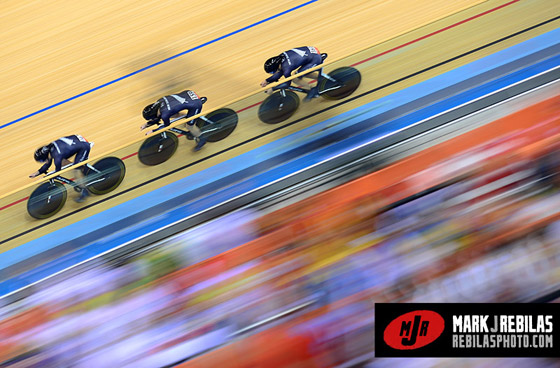 Sports photographer Mark J. Rebilas, covering the Olympics, shares photos of track cycling and water polo.
On this day I would make my first trek to the Velodrome for some track cycling. I was honestly really looking forward to shooting there. That was, of course, until I arrived and walked around the venue.

My first observation upon arrival was how ridiculously hot it was in the building. It was for sure in the mid 80's which is always fun when you cover an international event since many countries photographers apparently do not believe in wearing deodorant. It blows my mind that people can go out in public smelling like a sewer but that's a whole different blog so lets get back on topic.

The photo positions for the cycling were the standard spots you would expect. Head on shots down the straight and a photo area between turns 1-2 and turns 3-4. What I wasn't planning on was the metal railing on top of the already tall outside walls. To really shoot the riders going through your turn you literally had to stand up, much to the dismay of the photographers in the second row behind me!
Continue reading and see more photos on Mark's blog.