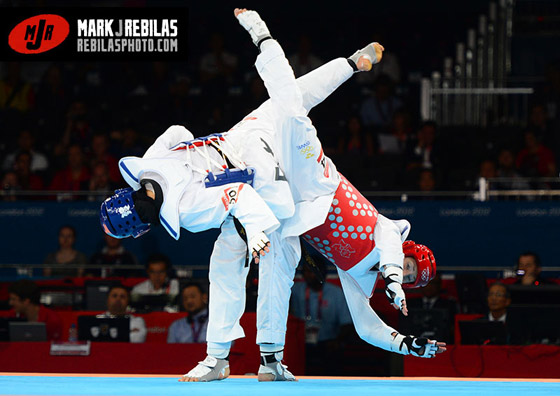 Sports photographer Mark J. Rebilas covered men's and women's taekwondo on one of the last days of the Olympics.
With two days left of shooting at the Olympics I was hopeful for some really cool assignments, like BMX or Womens Gymnastics. Instead I would get assigned for an up to 15 hour day at the Excel Center covering Taekwondo. I have never shot the sport nor do I know anything about it. But hey, before Olympics I told management I wanted to cover as many different sports as possible. Guess I should be careful what I ask for!

There were two Americans I was there to cover. First one would be Steven Lopez, a two time Olympic Gold Medalist. The other was first time Olympian Paige McPherson.

As long as they were in competition I would stay there.

First fight I needed to shoot would be Steven Lopez at 9:15am.

After a 7:15am wakeup I would catch the 8am media shuttle bus from Russell Square to the Excel Centre, about 30 minutes away by bus.

Since I had never shot the sport before I shot the first fight before his fight to get an idea for the sport.

The good parts were the nice dark backgrounds. By kneeling down a bit lower you could produce black backgrounds if you shot just a bit underexposed.

The bad parts where the blue and red helmets and vests they wore. Even worse I would soon find out is the referee was always getting in the way!
Continue reading and see more photos on Mark's blog.