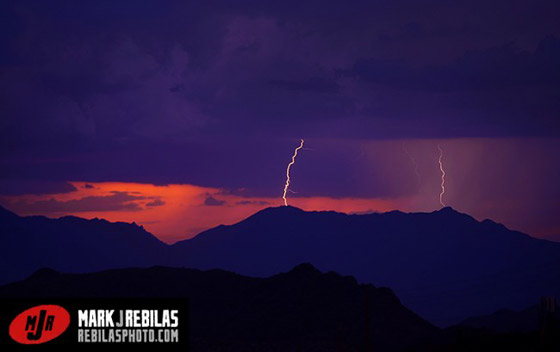 Phoenix-based sports photographer Mark J. Rebilas spent an evening storm chasing near Phoenix.
My biggest fear while at Olympics was missing the bulk of the summer monsoon storms that sweep across Arizona. Even though sports and racing is what pays my bills, I am obsessed with storm chasing! Luckily for me I didn't miss many storms while I was gone. Now that I am home I was sure to plan a few days off into my schedule to allowed me to start catching up on my storm shooting. Today would be one of those days.

Early in the afternoon the radar was showing lots of storms north of Phoenix so I started planning in my head where I'd go, most likely towards Payson or Prescott.

Around 5:30pm the radar was now showing several storms building just south of Phoenix. That would be perfect since just south of Phoenix is South Mountain. Easily the best vantage point to shoot storms from in the Phoenix area due to its high elevation over the city. When it comes to shooting lightning, a great vantage point is nearly as important as the storm itself. If you can't get elevation over the trees, buildings or power lines then your shots will look terrible.
Continue reading and see more photos on Mark's blog.