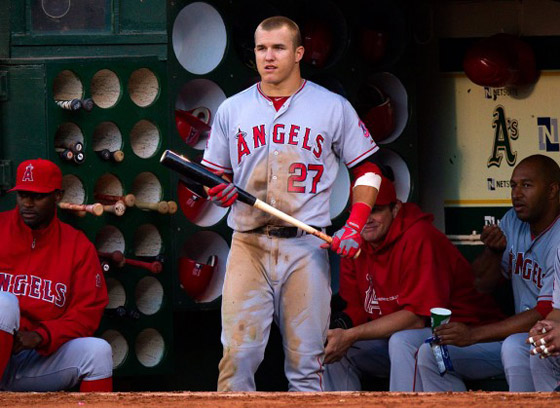 San Francisco Bay Area sports photographer Brad Mangin shot Mike Trout of Los Angeles Angels for Sports Illustrated.
This weeks issue of Sports Illustrated features a cover story about Los Angeles Angels phenom Mike Trout. My good friend Robert Beck shot the wonderful portrait of Trout on the cover, and I was able to get a few pictures published inside the story. Having the chance to photograph Trout on assignment for my editor Nate Gordon at the magazine two weeks ago was a blast. Concentrating on one player, especially one as electrifying as Trout, is a dream assignment. When I have an assignment like this I try and shoot everything the player does, so my editor does not have to look at and endless take of baseball cards.

The Angels were scheduled to play three games against the A's in Oakland, so I had the chance to shoot Trout playing in two night games and one day game. This was a great opportunity to photograph the young center fielder in every type of light- from bright and harsh sunlight to pretty late afternoon golden light to the darkness of the outfield at the Oakland Coliseum. Monday night was my first game and I got out there about three hours ready so I could be waiting to shoot everything Trout did during batting practice (see above). I knew the light would be great for Angels batting practice between 5pm and 6pm, so I brought the 800mm lens and went to work.
Continue reading and see more photos on Brad's blog.