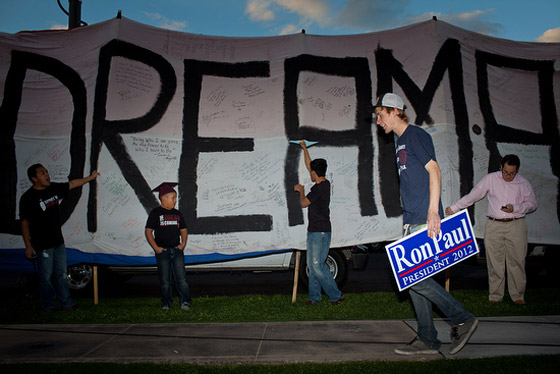 Denver-based photographer and founding member of LUCEO Images Matt Slaby traveled to Arizona to shoot a story about the Latino vote in the upcoming elections.
In February, I made a quick trip to Arizona for Time Magazine for a story focusing on the Latino vote in the upcoming elections.  Arizona is a peculiar electorate in this regard: a significant portion of the state boasts Latino roots, the state itself was part of Mexico from around 1540 until the signing of the Treaty of Guadalupe Hidalgo in 1848 and the state's politics have become increasingly polarized by anti-immigration sentiment that has resulted in the controversial SB 1070 "Show Me Your Papers" law, another law banning ethnic studies courses in school, and a another one banning the transport of ten or more undocumented immigrants at once.  In spite of Arizona's significant Latino community, as a demographic, it has historically been politically disengaged.  Or disenfranchised, depending on who is at the lectern.

The story was initially intended to focus on canvassing efforts in Latino neighborhoods in the Phoenix area.  Like all of the best laid plans, there was no canvassing during my time for the shoot.  We were too early in the primary season.  These challenges are disappointing and fun all at the same time.  They're disappointing because you hope to please your client with something that they are anticipating; it's fun because it requires a little problem solving to deliver a functional alternative.
Continue reading and see more photos on the LUCEO blog.