Matt Eich
was born in Richmond, Virginia in 1986 and is the oldest of four children. He grew up in the peanut-farming town of Suffolk, Virginia. Watching his grandmother's battle with Alzheimer's disease was a formative experience and a road trip with his grandfather cemented his early relationship with photography. Eich began working as a freelance photographer while studying photojournalism at Ohio University for clients that have come to include GQ, Esquire, Mother Jones, TIME, FADER, Harper's, Apple, National Geographic and others. He has been named one of PDN's 30 Emerging Photographers to Watch and is currently working with support of grants from ShootQ, NPPA, Aaron Siskind Foundation and National Geographic Magazine. Matt's prints are in the permanent collections of The Portland Art Museum and The Museum of Fine Arts Houston. These days Eich lives in Norfolk, Virginia with his family while compulsively documenting everything around him.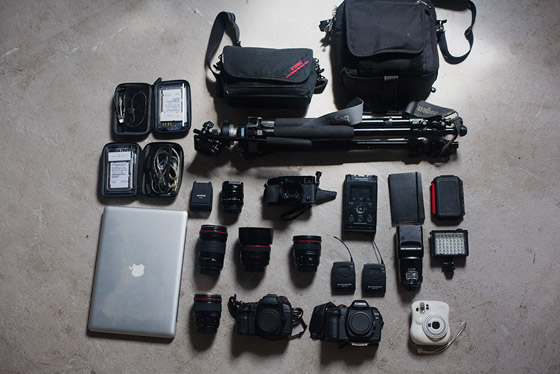 My main objective with equipment is to use what is necessary, and leave the rest, though I also hedge my bets when packing for a shoot. I'm a bit of a minimalist when it comes to my approach and I prefer to use one body with a 35mm f/1.4. Depending on the situation, I'll occasionally employ both bodies with the 35mm and 50mm lenses. This is what I packed recently for a trip to Greenwood, Mississippi to continue my project "Sin & Salvation in Baptist Town." As part of this, I am also gathering sound and motion content, as well as artifacts, Fuji Instax and iPhone photographs. The Domke bag is the best thing ever because it carries three lenses, a notebook, some pens and nothing else. My back will be screwed up enough without carrying some huge bag and giant lenses around. The Think Tank is good when I'm going somewhere that I can set my gear down, or when I need to carry water bottles or a clipboard with model releases.  The Fuji X-Pro-1 is something I employ when I need to be a little more discreet, and also when I feel that I can afford to mess up a few frames.
– Canon 5D Mark II (2)
– Canon 24mm f/1.4
– Canon 35mm f/1.4
– Canon 50mm f/1.2
– Canon 135mm f/2
– Canon 580 EX Strobe
– Fujifilm X-Pro-1
– Fujifilm 18mm f/2
– Fujifilm 35mm f/1.4
– Fujifilm Instax Mini
– Fujifilm EF-20 Strobe
– Litepanels LP-Micro
– Marantz 661 with Oade Brothers Modifications
– Sennheiser Wireless Lav Mics EW100 G3
– Other World Computing Portable HD, 320GB (2)
– MacBook Pro, 17″
– Domke F-5XB
– Think Tank Urban Disguise 30
We appreciate your continued support! If you plan to purchase any of the items mentioned above, please use the links in the post to help support Photo Brigade.