Daniella Zalcman lives in NYC where she works as a freelance photographer for The Wall Street Journal. Born in Washington D.C., she graduated from Columbia with a degree in Architecture in 2009. Other clients have included The New York Times, The New York Daily News, Sports Illustrated, Vanity Fair, New York Magazine, Saatchi & Saatchi, National Geographic, The Nation, Wired & Esquire.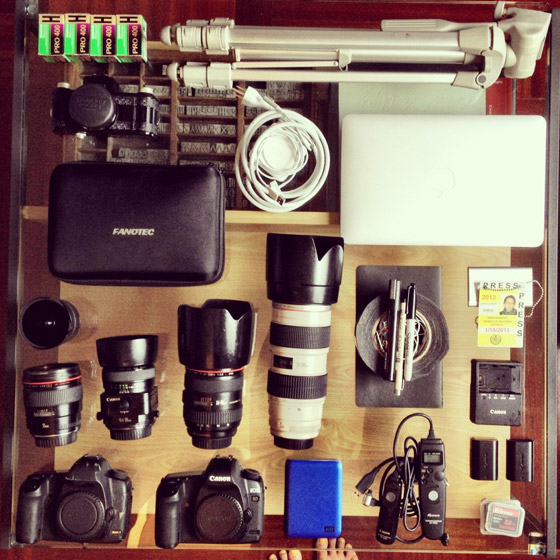 I'll be spending the next week in Tampa documenting the RNC.  The 2008 RNC and DNC were the first major events I covered as a working photojournalist (with a 30D, no less!) and I was wildly out of my element at the time, so I'm excited to be coming back this year with a little more experience under my belt.  Most of what I packed is part of my regular arsenal as a freelance NYC photographer — Canon 5D Mark II, 70-200mm, 24-70mm, and the 35mm.  I also frequently carry a 16-35mm f/2.8 or a 50mm f/1.4, but I'm leaving them at home because I really don't need the extra weight.  Instead, I decided to pack the tilt-shift lens and Sprocket Rocket just for fun.
I carry all of my camera gear in a Domke F-2, with a small Tucano shoulder bag for my wonderfully small/light 11″ Macbook Air.  I also have a small duffel bag with my tripod, some clothes, toiletries, and rain gear for what promises to be a very stormy week.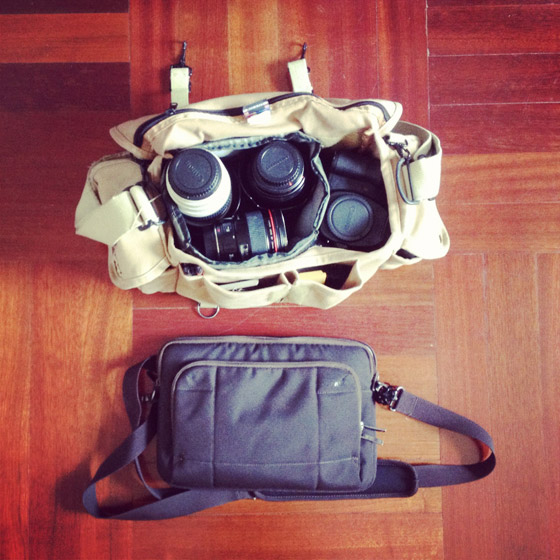 Bags:
– Domke F-2
– Tucano Macbook Air 11″ Shoulder Bag
 
Gear:
-2x Canon 5d Mark II
– Canon 70-200mm f/2.8L
– Canon 24-70mm f/2.8L
– Canon 35mm f/1.4L
– Canon 90mm TS-E f/2.8
– Canon 15mm
– Macbook Air 11″
– Lomo Sprocket Rocket + Fuji Pro 400
– Western Digital 1TB My Passport Portable HD
Miscellaneous:
– Tripod
– Intervalometer
– Shutter Release Cable
– Gaffer's Tape
– Moleskine
– Sharpies/Markers
– NYPD Press Pass + Foreign Press Center Press Pass
– Chargers, CF Cards, Batteries