Andrew Lipovsky
is a New York City based editorial and lifestyle photographer specializing in music and portrait photography. He is an internationally published contributor for Kerrang Magazine, Getty Images, Cavan Images and Live n' Loud Magazine.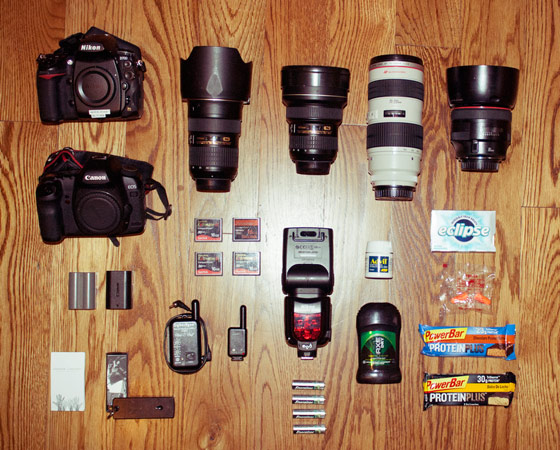 The equipment I carry for shoots always varies based on the assignment. When shooting portraits, I typically bring about the same items I carry at shows (see below), plus lights and stands.
I recently covered the Vans Warped Tour for Kerrang Magazine. Shooting this event is a long, hot and hectic day of running between stages and crowds of people, so packing light and having access to a variety of focal lengths at a moments notice is key. Digging through equipment and camera bags takes time and means possibly missing a great moment, so I had to plan strategically. Here's what I brought:
- Lowepro Fastpack 250 Backpack
- Canon 5D Mark II
- 70-200mm 2.8
- 85mm 1.2
- Nikon D700
- 24-70mm 2.8
- 14-24mm 2.8
- Nikon SB900
- Paul C Buff  CyberSync™ Trigger Transmitter
- Paul C Buff CyberSync™ Receiver – CSRB
- 16 GB cards (x4)
- Extra Batteries
- Ear Plugs
- Deodorant
- Advil
- Protein Bars (always good to have a snack for long days of shooting when you know you'll have little time to stop and eat)
- Business Cards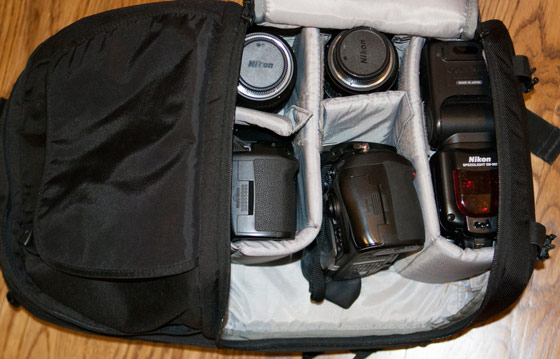 Now, I wouldn't usually mix Canon and Nikon, but I had access to the Canon equipment and have yet to purchase my D800 body so I figured it was worth the risk of "ripping a hole in the space time continuum," as a friend put it, and make it work.
For most of the day I carried both bodies, with the 24-70mm on the D700 and 70-200mm on the 5DII so I could change focal lengths quickly. A 14-24mm, for wider shots of the scene, was in it's lens case around my shoulder, and the 85mm was stowed away in my bag for quick portraits. Even though the show was all outdoors I knew I would need to be covering some of the action behind the scenes so i brought my flash along with me in case I had access to photograph on a bands dimly lit tour bus (which I did).
I like to be prepared for anything that may come up. This might mean over packing sometimes, but even if I don't use everything, it's better to have it and not use it, than wish I had something and regret missing that one amazing shot.