I've recently sold most of my Canon gear to go lower profile and a lot less weight. Now all I simply own is one Canon system, the EOS 1D Mark IV, and three lenses that run the gamut of focal lenghts, a 16-35/2.8, a 70-200/2.8 IS and a 300/2.8 IS. Additionally I carry a 580 EXII Speedlite. With this kit, I can do just most everything including sports, but this kit is still quite heavy in my opinion.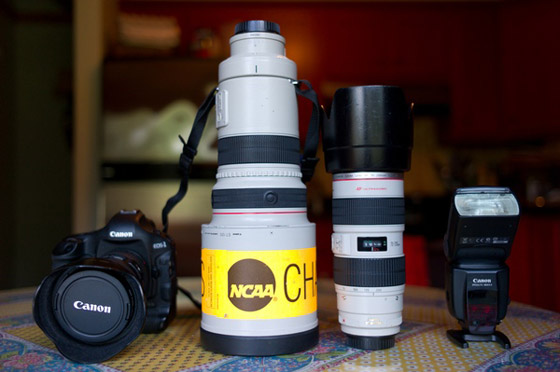 Now my typical bag consists predominantly of Leica gear, sharp and light. I use two M9 systems and a wide range of ultra light, super sharp glass. My 35/2 Summicron hardly ever leaves the body. It is the perfect lens for a variety of applications from events, environmental portraits, group shots and landscapes. If I need to do a tight headshot, I use a Leica 75/1.4 Summilux. Those two lenses serve probably 75% of my needs. If not, I also have a Leica 28/2 Summicron and a 50/2 Summicron. That entire kit weighs less than my Canon Mark IV and 70-200/2.8. Everything the Canon kit can do, my Leica kit can do with the exception of sports.
In addition to the weight, I shoot a Leica rangefinder for a number of other reasons:
– It forces the photographer to learn their camera. Most of the controls including focus is manually adjusted. You can't really shoot fast with it but are forced to concentrate on the basics of composition (subject, focus, simplify).
– The lenses are no less than spectacular. The bokeh on the 75/1.4 Summilux beats the Canon 400/2.8 any day.
– The color rendition out of the camera is beautiful.
– The black and white is even more so. In fact, I leave my M9 in Color Raw + B&W JPG virtually all the time and I almost always go with the Leica B&W as opposed to converting the RAW.
– My subjects do not find my M9 intimidating. I can get up close to my subjects for a more intimate portrait.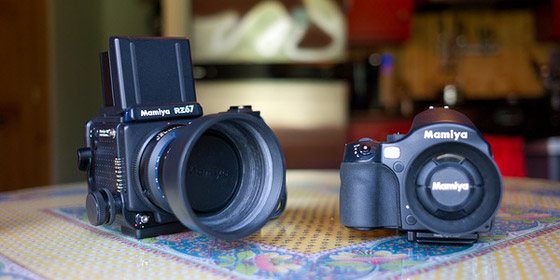 For lighting and formal portraits when shooting weddings, I will be using a pair of Uni400s from Dynalite. I'll be shooting the portraits with a 80mm/2.8 Lens attached to a Mamiya 645 AFD-III or a 110mm/2.8 attached to a Mamiya RZ67 Pro IID body. In both medium format cameras I use a Leaf Aptus DM33 digital back. There are significant advantages to shooting medium format including:
– The sensor is five times bigger than a 35mm.
– Image quality. Despite what the 35mm guys tell you, they all wish they could have a medium format camera.
– Dynamic range: A 35mm sensor typically has a 3-stop dynamic range while medium format has a range of 12-stops so you get a more natural looking transition between highlight and shadow areas.
– I'm forced to slow down and focus on my composition instead of jumping around and shooting like a monkey.
– Combined with a lens using a leaf shutter, I can synch my lights to the highest shutter speed available on the camera.
– The Look. You need a focal length twice the size of a 35mm camera system so you get a more 3D look with more bokeh. For example, a normal lens is 35mm in a 35mm camera but when shooting medium format 80mm is considered a normal lens.
– You can shoot film with the same camera! Many of us still love to shoot film on occasion. Both my medium format cameras accept film backs so I typically carry a few rolls of 120mm as back up on important shoots.
– The digital back is interchangeable. I have a 33 megapixel back but on a big job that pays big bucks, I can rent a 60 or even an 80 megapixel back.
– Professional Look. With so many prosumer cameras available to the masses, it is hard to distinguish the "Parent With a Camera" and the "Professional." When you walk in with a Medium format camera, everyone knows you take your trade seriously.

Canon kit:
– Canon Mark IV
– Canon 16-35mm f/2.8
– Canon 70-200mm f/2.8 IS
– Canon 300mm f/2.8
– Canon 580 EXII Speedlite
Leica kit:
– Leica M9 (2)
– Leica Summicron 35mm f/2
– Leica Summilux 75mm f/1.4
– Leica Summicron 28mm f/2
– Leica Summicron 50mm f/2
Mamiya kit:
– Mamiya 645 AFD-III
– Mamiya RZ67 Pro IID
– Mamiya 80mm/2.8
– Mamiya 110mm f/2.8
– Mamiya Leaf Aptus DM33 digital back
Lighting:
– Dynalite Uni400s