Chip Litherland
is a self-diagnosed color addict. Pretty much sums it up. He is also an award-winning photographer based in Florida, with over a decade of experience working in photojournalism. He is a regular contributor to The New York Times, The Wall Street Journal, and ESPN the Magazine, and his work has appeared in TIME, The Washington Post, The New York Times Magazine, Newsweek, among others. His work has been recognized by Pictures of the Year International, Best of Photojournalism, Atlanta Photojournalism Seminar, Southern Short Course, and the National Press Photographer's Association. Since his departure form newspapers, he has been tackling the marketing, advertising, travel, and
wedding world
with the same passion as his editorial work. His newest venture is
FOCUSED
, a project challenging 200 photojournalists, including 30+ Pulitzer prize winners, around the globe to using only one click of the shutter on a single roll of film to create one compelling and lasting frame. Chip is married to his lovely wife, Elaine, and they have two beautiful daughters together. He is on a 12-step-program to break the cycle of addiction to random gratuitousness in his work, filling rectangles with extremely anal, over-saturated compositions, and consuming his weight in Chipotle burritos.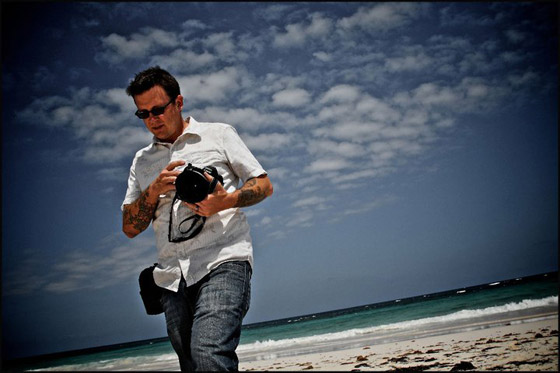 My first impression of Chip Litherland was of an unassuming enough of a guy. Genuinely nice and mild mannered, with bold tattoos peeking out from under the rolled up sleeves of his pastel purple button up. In hindsight this should have been no surprise given I had read on his website bio that he is a ʻselfdescribed color addict.' The other day I had the opportunity to sit down with Chip over lunch while he took a quick break from his whirlwind marketing tour of New York city, the first he has ever made in his career. Having left a staff position at the Sarasota Herald-Tribune I found out that this was Litherland's second, much more successful, endeavor as a freelance photographer. Over close to two hours Chip was gracious enough to share his experience, successes, failures, and how he learned from them so he could make it on his own and take control of his career.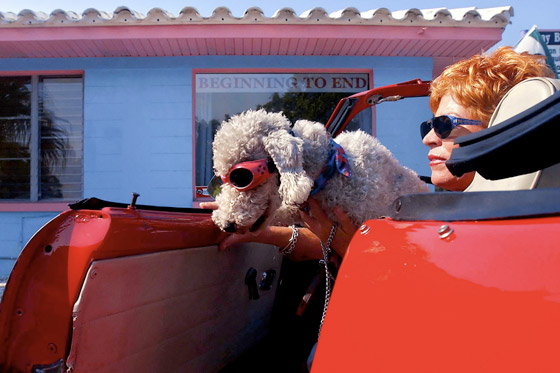 The son of an Air Force pilot, Chip was exposed to photography at an early age. His father would bring home rolls of film he shot while flying to develop and print in his home darkroom. A fascination with pictures was soon to follow, every school project he could manage to turn into a photo project was and, naturally, he would go on to receive his bachelor's as a fine art photographer. "All I knew was that I wanted to make pictures" Chip remembered of his college years, "I didn't even know what photojournalism was until I took my first college class." From there, Litherland explained, a professor who saw "the spark" in certain students pulled them aside and taught them photojournalism outside of the classroom. Chip went on to participate in as many workshops as he could, including Eddie Adams, and would go on to land his first internship at The Dallas Morning News. A later internship at The Colorado Springs Gazette would give way to his first staff job as a photojournalist at The Sarasota Herald-Tribune, where he stayed for seven years before heading out on his own.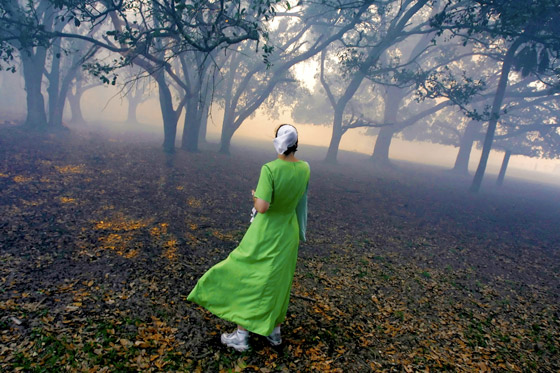 Chip's almost childlike excitement and enthusiasm from his marketing tour was infectious as he shared his new experiences of meeting with ad agencies. "I was scared as hell" he candidly recalled from a recent meeting with a high profile firm, "I had no idea what to expect or if they'd even like my stuff. I'm not an advertising photographer." It turned out that he had nothing to worry about. The agency, which admitted that they are bombarded with hundreds of solicitations a day, mentioned that they saw enough promise in his vision that he was worth bringing in for a quick meeting. Flattered and bewildered Litherland remained excited for his next review. He attributed his success with his marketing tour to his new consultant, Amanda Sosa Stone of Agency Access. "I just put all my faith in her and was like, ʻHere, here are all my pictures. Do what you will." Chip hired the agency to completely rework his entire brand so he could seek more than just editorial clients. So far he seems pleased. "Amanda took and re-edited my portfolio, focused on that one single thing, color." He recalled her impressions, "ʻThis is how you see, this is what I want people to see when you show them work, that you do color and you want to be the person who does that better than anybody else… I don't care what kind of clients come to you, they're all gonna see the same thing and they're going to pull it out for themselves. They're going to pull that out and be able to use that for their own uses.'"
Litherland knows the critical importance of client diversification now, after a first failed attempt with freelancing which drove him back to The Sarasota Herald-Tribune before trying again. "My first go at freelancing, which was about four years ago, completely failed. And it failed because I only did editorial when I went freelance. I still wanted to be a photojournalist, I still wanted to work for news papers and there's no way of sustaining a business doing that anymore." Chip now supplements his income from editorial clients with anything from commercial and PR work to destination weddings, readily admitting that his work with Agency Access and marketing trip to New York is to try and "go for the big fish." Four years after his first attempt, Litherland attributes his more recent success to understanding how other clients can value the work of a photojournalist. "Whether it's ad agencies or businesses or PR companies, or whatever it is." Chip notes. "They want pictures that are going to make it to magazines and newspapers. So it makes sense for them to hire photojournalists who work for these publications. I know how to shoot a picture that will get into a publication. So I think [they] are seeing the value of that." Marketing aside, Litherland makes it a point to reinforce the value of relationships that also increase the odds of success in landing work. "You never know when one guy can't do something and they'll recommend someone they know. Who they appreciate and who's a nice guy and is going to represent them well. There's no value in being a jerk or being a hermit and not getting out there and knowing people and being friendly…and helping out, assisting. I'll assist people just to help them out. And those relationships pay off dividends way down the line."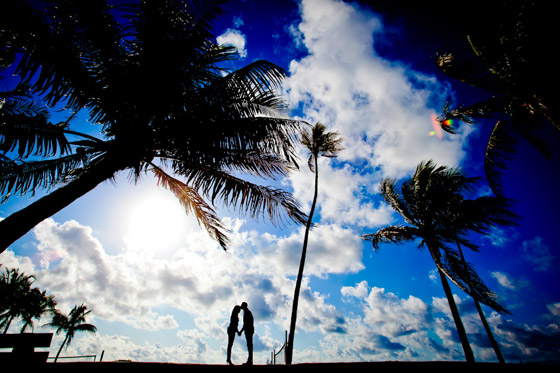 Chip makes no illusion, however, that getting work and creating a successful business is just that simple. He reinforced that freelancing is just as much willpower and self-determination to get up everyday and put in a 9 to 5 even if you're not shooting or editing. The majority of Litherland's days and weeks are taken up by reaching out, marketing and engaging social media just so he can get his work out there and show what he's doing. It follows that Chip isn't pessimistic about the state of the photo industry but he does think that photographers have to do a lot more banding together. He sees too much undercutting, which he finds as a galvanizing force that allows publications and outlets to pay too low of rates. Otherwise, Chip sees our industry on the brink of an exciting new horizon, as he puts it "There's so much technology and so much we can do with imagery over the next five to ten years that it's just going to be a whole new world. So just keeping in front of it and keeping on pace with it is going to be the challenge. If you're stuck in a job that you've had for 30 years or you really don't want to adapt, that's where you're going to fail. You've got to constantly innovate, you've got to constantly see differently, be out there promoting, you can't sit around and wait for the phone to ring anymore."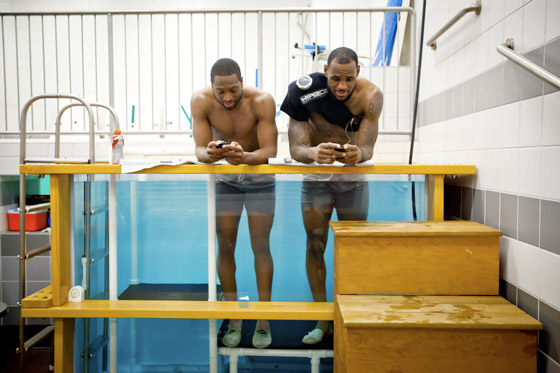 So what's next for Chip? He admits that his heart is with photojournalism but also doesn't have a dream career mapped out. Although, he did express serious interest in getting the chance to go to Japan. Supporting his family is Litherland's main concern at the moment, with contributing to our field and making sure he doesn't have to do anything besides photography to make his living close seconds. When asked if he wished he would have done anything differently along the course of his career, his answer was the same as the best advice he would like to pass on to any aspiring photographer. Learn business. In addition to marketing that includes knowing contracts, taxes and book keeping, understanding rates and the value of your own work, and licensing. "If you don't know anything about licensing pictures you're going to lose a lot of money" Chip reminds. He went on to cite some of his favorite sources, such as blogs by Photoshelter, Agency Access, Jasmine DeFoore, business books by John Harrington and industry websites such as Editorial Photographers, ASMP and NPPA. For now, though, Litherland is content with his present situation. "In general as long as I'm making pictures and producing rectangles then I'm happy [and] as long as I can still do that and get paid for it, I'm happy. I'm extremely blessed and I try to remember that every time I go out and I have a job."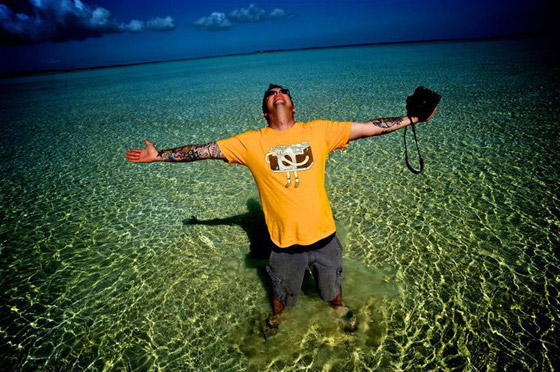 He went on to mention that once you don't have that outlook anymore that's the time to get out of the business. "I tell myself every day that I'm really lucky to be able to make pictures for a living. I get to see the world through a little rectangle, compose it how I want to, and see it how I want to…the way I want to present it to everyone else. Always remember how lucky you are to be a photographer."

About the writer:
Born in Philadelphia and raised all over these United States
Alex Federowicz
currently resides in Columbus, Ohio while pursuing graduate studies in photojournalism at Ohio University. Never taking a moment of his time on this planet for granted, he covets his camera as a vehicle to understanding the subtleties and nuances of our human experience. Engaging the world in such an intimate discourse as photography is how Alex wishes to create a visual narrative that challenges our generation's perceptions of ourselves, will hold us responsible for our future and references where we came from to get here. In the meantime, however, he enjoys Irish whiskey, the smell of the ocean, his Kindle and the company of his fiance, Cassie, and their two small cats, Orson and Charlie.